10 Seasonal Walk-to-School Ideas – January to March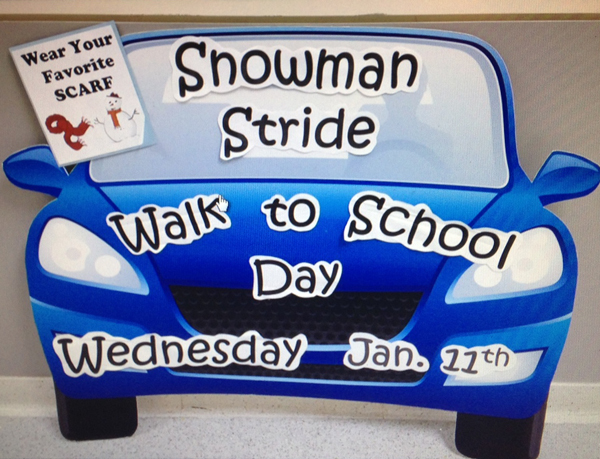 So here we are in January… settling in to a new school term, some of us appreciating normality again and some of us, well, just looking forward to the brighter weather. Whatever your outlook, now is a great time to plan your walk to school initiatives for the months ahead. Here are ten ideas to inspire you:
1. 'Bye Bye Mince Pies' Walk – walking to school is a great way to keep fit and by linking it to weight-loss/get fit new years resolutions you may capture the interest and involvement of more parents. Using pedometers to measure steps helps you see progress (1000 brisk steps burns around 400kcal for an adult). See this as a launch event to start an informal walking group for the school run – by walking together parents may find it easier to stick to their walking resolutions.
2. Chinese New Year – 28 January sees the start of the Year of the Rooster. Celebrations last for two weeks so pick a day to mark it with a special walk to school event. Class-made chinese lanterns, dragon stick puppets or red streamers will make your walk to school event really prominent.
3. Snowman Stride/Walking 'Snow' Bus – Pupils from Atlanta, Georgia, USA took part in a 'Snowman Stride' to promote a walk to school habit. Give your event a fun name and advertise it well with some creative posters like theirs. Inzievar Primary School pupils enjoy walking in a winter wonderland on their temporarily re-named Walking Bus. They are great at promoting what they do on twitter and sharing their initiatives.
4. Love to Walk – Valentine's Day is Tuesday 14th February. As walking is good for your heart this is an ideal day for a themed walk. Follow up with a chance for every walker to write on a paper heart for a display, saying what they loved most about walking to school.
5. Wear a Heart – Pupils from Bryncoch Church in Wales Primary School each made a paper heart badge or necklace for their 'Wear a Heart' Walking Bus and were rewarded with a drink of squash in the staff room.
6. 'Take Me to the Mardi Gras' – Tuesday 28th February is Shrove Tuesday; here in the UK it will be pancakes for tea! In many countries Mardi Gras carnivals take place to mark the day before Lent starts. A chance to don feathers, masks, beads and jester hats for a carnival-themed walk to school.
7. World Book Day – This one's for the whole school. Hold a competition to mark world book day and link it to safe, active, sustainable travel. In Southampton Sustrans organised a school reading challenge to coincide with World Book Day in which the children had to read books about active travel and road safety, then complete worksheets.
8. Saints Days – March has two national saints days so why not mark these with a themed walk to school. For St David's Day on 1 March give each child who walks a daffodil to put into a vase in their class – and see which class has the most. For St Patrick's Day on 17 March pupils can make a paper shamrock badge to wear on their walk to school
9. Big Pedal – Okay so it's not walking, but we wanted to mention Sustrans' Big Pedal event from 20 – 31 March which encourages pupils, staff and parents to cycle or scoot to school with a massive inter-school challenge.
10. Red Nose Day – A big day in the diary for many pupils; 24 March. Perfect chance to have a sponsored walk or scoot to school as a Red Nose Day fundraiser… and even better if you are already taking part in the Big Pedal.
That's a lot of themes for walking to school. Don't worry, noone would expect you to try them all! But I hope you are inspired by at least one of these ideas. Although you want pupils and parents to see walking to school as a normal every day activity, occasionally it's worth making it a special event to encourage others to notice and join in.