10 Ways to Get Kids Walking – April to June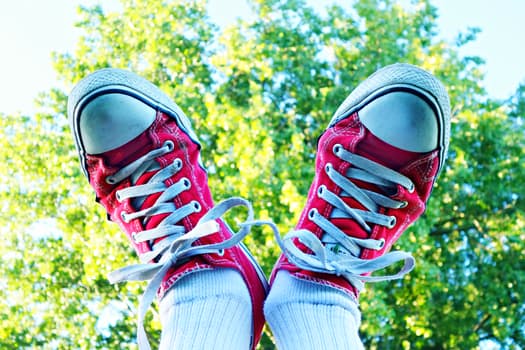 Do you want to launch a new walk-to-school scheme? Boost your walking bus? Or just find ways of getting your own children to walk more? From bunnies and blooms, to shoes, shields and shades, here are ten ideas for the months ahead…
1. Treasure Hunts
Easter egg hunts are really popular at Easter time and are a good way to get the kids outside. But don't stop there… for year-round fun hunting for 'treasure' try geocaching, the world's largest treasure hunt.
There will be something to find in your local area you just need GPS on a phone to find it.
Or once you understand how it works you can set up your own temporary geo-cache style 'finds' for your family, friends or pupils in a more localised area such as a country park. I did this as a scout activity when I was a scout leader as there weren't enough official geocache 'hides' in our immediate area.
For night time hunts hide something reflective (such as our high vis bunny) so it can be found with torches.
2. Wear a Flower Day – 20 April
Here is a chance to spread a little floral cheer on your walk to school. It's low-cost (or free if you have a garden in bloom), will bring attention to your walkers and makes them feel special. Simply hand out a flower to every walker who joins you, including the adults.
You may prefer pupils to carry their flowers and per-arrange for each class to have a vase to put them in – see which class gets the most! Not every pupil may want to carry a flower so have some interesting sprigs of greenery on hand to give them a choice.
Introduced by the North of England Horticultural Society (NEHS) to coincide with the launch of its new Harrogate Flower Show spring exhibition HortCouture, National Wear A Flower Day is an opportunity to choose a favourite flower and wear it for the day in celebration, in commemoration or simply to make you smile. www.flowershow.org.uk
3. St George's Day -23 April
This year St George's day falls on a Sunday but you can still include it in your schedule of walk-to-school events by having a themed walk beforehand on Friday 21 April when pupils bring along their own decorated cardboard shield.
See how to make them on the English Heritage website. www.english-heritage.org.uk/visit/whats-on/st-georges-day
4. Astronomy Day – 29 April
'Star' stickers are a popular and traditional way to reward children and STARS is the name of the national school travel awards here in the UK. So it's a great theme to work with to promote walking to school.
We've taken inspiration from the US's Astronomy Day to combine walking to school with learning about the night sky. Give pupils simple constellation diagrams, reward them with a start sticker each day they walk and let them 'complete' their constellation diagram before moving on to the next one. For free downloadable constellation diagrams and more information see our Star Walker scheme.
5. Walk to School Week – 15 to 19 May
Every year thousands of pupils take part in Walk to School week which is part of National Walking Month organised by Living Streets charity. Check out their website www.livingstreets.org.uk for lots of downloadable resources to help encourage others at your school to take part.
6. Happy Shoes day – 16 May
On Tuesday of Walk to School week many schools take part in Happy Shoes day – pupils each pay £1 to wear their own fun shoes on their walk to school. This helps raise money for walking projects run by Living Streets charity.
7. WOW – Every Wednesday
While we are looking at what Living Streets do, here's a plug for another walk to school initiative. WOW stands for Walk on Wednesdays or Walk Once a Week and it's a year-round activity. It's a way to get families walking to school regularly without asking for them to commit to every day.
Once they see the benefits of walking once a week they may extend this to every day.
8. Outdoor Classroom Day – 18 May
Okay, so this is not about the walk to or from school, but it's about getting kids outside more during school hours which means they'll be getting more walks into their day. Outdoor Classroom Day is a day to celebrate and inspire outdoor learning and play. On Thursday 18 May 2017 thousands of schools around the world will take lessons outside and prioritise playtime. For more info and to get involved see: outdoorclassroomday.org.uk.
Across the curriculum there are many activities that can take part outside. If you are travelling with pupils to an outdoor activity further afield, try to use public transport… it could be quite a novelty for some! If you are monitoring a large group and need high vis to help you, check out our offers.
9. Child Safety Week: Caring is Sharing – 5-11 June
Child Safety Week takes place early each June and is organised by the Child Accident Prevention Trust.
This year they are asking friends, families, communities and professionals to show they care by playing their part in keeping children safe and sharing their experience and knowledge – with really practical, simple things they do to prevent accidents. For more info see www.childsafetyweek.org.uk.
As the week usually coincides with Bike Week it's an ideal time to get in some road safety training for your pupils. By training pupils to be more able and confident near traffic they are more likely to want, or be allowed by their parents, to walk to school.
10. International Sunglasses Day – 27 June
We're hoping the sun will be out more regularly by the time we get to late June… and you will actually need your sunglasses at some point! Here's an excuse to dig out those shades and wear them for the walk to school.
It's also a chance for parents and teachers to look at other sun safety issues such as encouraging kids to wear hats outside on hot days and drink plenty of water – keeping them comfortable means they can make the most of the good weather and enjoy walking even more. For more information see www.thevisioncouncil.org/kids
I hope there is something there to inspire you. We'll have more tips later for the rest of the year which will also be featured in our enewsletter for schools and school travel professionals. You can sign up here to receive it if you haven't already done so.