Active Travel at Wicksteed Park
Wicksteed Park hosts family fun scooting and cycle repair sessions as part of its sustainable travel plans
Musical scooting sessions held at Wicksteed Park in Kettering, North Northants, saw families twirling, riding, performing and laughing – all part of the park's commitment to promoting active, safe and green travel. The free sessions, held at the popular park in late January, were organised by us here at Brightwayz social enterprise, with youngsters and their parents learning the ins and outs of safe, fun scooting.
While families enjoyed scooting to a soundtrack, cyclists were invited to bring their bikes into the Park's Learning Space for a service, and minor repairs.
Perfect Venue for Active Travel
Both the scooting and cycle sessions were organised by us here at Brightwayz and formed part of Wicksteed Park's active travel project which is funded by the Northamptonshire Office of the Police, Fire and Crime Commissioner.
While children took to their scooters and enjoyed sessions run by our friends at Scootfit, our Brightwayz cycle mechanic was kept busy all afternoon servicing and making sure bikes were safe to use.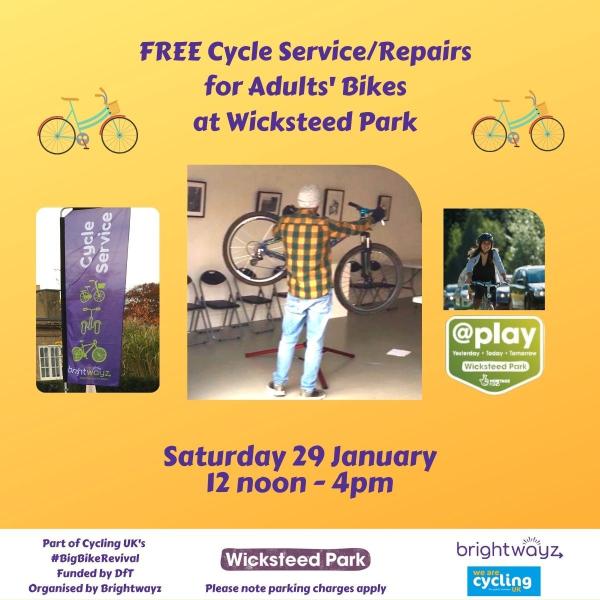 The cycle repair event was part of the Cycling UK #BigBikeRevival project, organised in Kettering with funding from the Department for Transport. Other repair and 'learn to fix' sessions are planned for the site and other local venues.
Wicksteed Park is a fantastic venue and the perfect place to host active travel activities such as these scooting and cycle repair sessions. Behind-the-scenes we have been working closely with Wicksteed Park for some time now on a project to promote and enable safe, active, sustainable travel options for the Park's visitors, staff and volunteers. This is about giving people travel choices and we hope to have inspired more people to both scoot and cycle.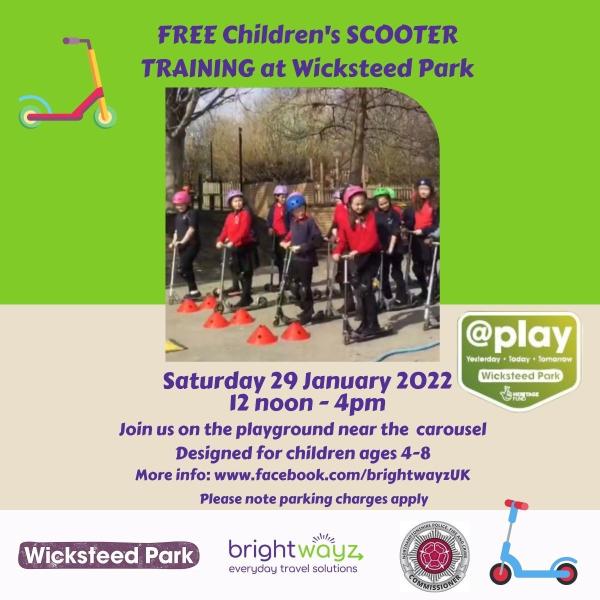 Active, Safe and Good for the Environment
Tracey Clarke, Wicksteed Park's Community and Heritage Manager, said: "We are committed to supporting and working with the community and to promoting our visitors with travel options that are both safe and good for the environment."
Northamptonshire Police, Fire and Crime Commissioner, Stephen Mold, said: "Scooters are rapidly growing in popularity so it is hugely important that we find ways to educate people and young children on how they can use them safely. Improving safety in Northamptonshire is a big priority for me, so I have been only too happy to work with Brightwayz to help fund what was I'm sure an invaluable course for those who attended."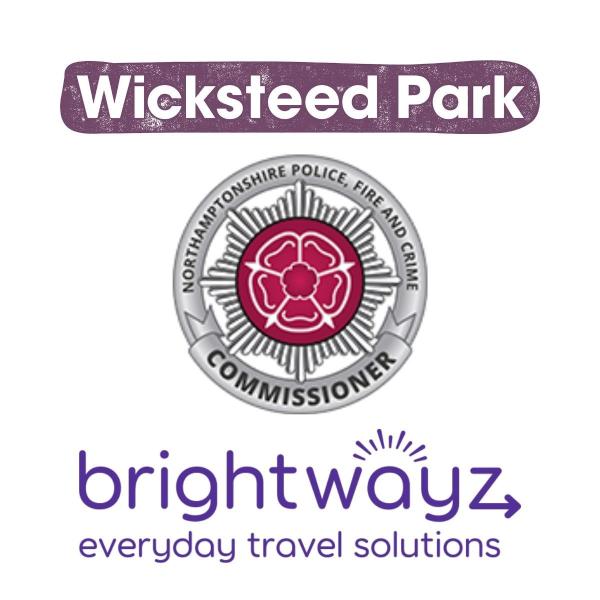 Brightwayz - National and Local Impacts
Now a bit of background to those who don't already know us... here at Brightwayz we are a social enterprise committed to promoting safe, active, sustainable travel for everyday journeys. Active travel is all about encouraging people to walk, cycle or travel in other active ways to school, work, or other local destinations. Sustainable travel also includes using public and shared transport for longer journeys.
Our social enterprise was launched in 2004 after our founder Alison Holland set up a 'walking bus' scheme at her son's school and realised there was a need for information and resources to support walk to school schemes. We have our headquarters near Kettering, North Northamptonshire, but work with schools, businesses, councils, and organisations across the country.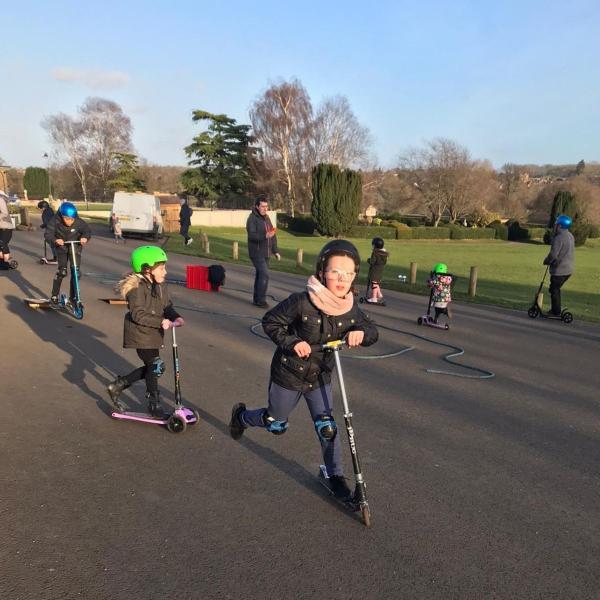 At Brightwayz we provide information and resources such as signage and incentives to support school, workplace and community active travel campaigns for all ages UK-wide. Our face-to-face projects such as the Wicksteed Park travel project are all within our local area in North Northamptonshire. The ideas developed here are then shared for others to use further afield.
Here at Brightwayz social enterprise we love to provide information and tips to help you, your colleagues, friends and family travel in safe, active, sustainable ways for everyday journeys.

Our unique range of products is here to help support your active travel campaigns and 100% of profits from sales is ploughed back to support the work we do. Take a look at our range here and find something to help you inspire others to travel in good ways.