Be Safe Be Seen – Making High Vis Fun for Children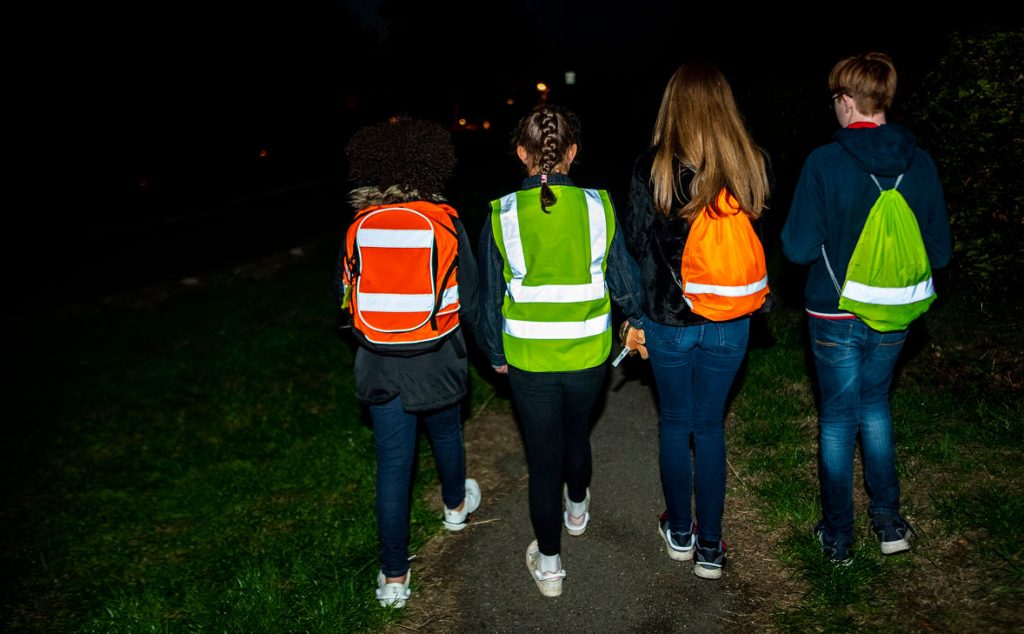 From cute hedgehogs to the ghoulish Tales of the Road, the main road safety message for children at this time of year is: Be Safe Be Seen. A yellow or orange high vis vest which is fluorescent for day and reflective for night may seem the perfect solution. However, tastes and attitudes vary and sometimes a different approach is needed.
Darker Sooner
With the change in weather comes the shortening of daylight hours. The clocks went back in late October to make our mornings lighter for a while; the downside is our evenings come sooner so journeys home are darker. Although it won't actually be dark when most children leave school (which is usually before 3.30pm), daylight will be fading and depending on the weather or where you are in the UK (northern areas get darker sooner in winter) visibility can be quite poor. Whether it is day, dusk or night, drivers need to take extra care at this time of year to look out for children.
Helping Our Children
Rather than just relying on drivers to spot children, parents and teachers can help their children to be safer by teaching them about being safe and seen and encouraging them to wear or carry something high vis – fluorescent for day and reflective for night.
The 'Traditional' High Vis Option
A simple and effective way to do this is for each child to wear a yellow or orange high vis waistcoat when they are out in poor light conditions. If mum or dad has one for work this will be familiar and it may make them feel grown up. These are also extremely popular with schools taking a whole class out as it also helps with class monitoring and school identification (if the waistcoats are printed).
Yellow or Orange Is Not the Only High Vis
However, tastes and attitudes vary so this is not the solution for everyone. If your children do not like their high vis they will not want to use it. It is really important that they can give their opinion when choosing something individually for them which they are expected to use. For example, a pink high vis waistcoat may cost more than a yellow one, but for pink-loving children you will get more value from it because choosing the right colour means it will be loved and used more.
Get Functional
Although high vis waistcoats give good all-round cover, your children may prefer a high vis item such as a bag, sash or baseball cap. Any items with another function score well… they need a bag anyway, so why not have a high vis one?
Small Is Beautiful
For those who just want a little high vis there are smaller items which are fun or look decorative but serve the purpose of making the user brighter; stick-on reflectors or fun-shaped rigid reflectors on cords. Some items allow children to be creative (for example colour reflective squares which can be cut and stuck to bags etc.). Other items are quite 'discreet' – silver reflective tape helps night-time visibility but is not noticeable in daylight. I stuck some to my son's newspaper delivery bag and he didn't even notice at first.
Schools Get Involved
So how else can children be encouraged to 'be safe be seen'? Aside from parents letting them have high vis they like and want to use, schools can play a part too.
Pupils can set up a school reflector shop linking road safety with business enterprise education.
The school can take part in Brake road safety charity's Bright Day to help increase understanding about being safe and seen.
Use a selection of high vis items to hold a 'High Vis Fashion Show' which could also be a great culmination to some high vis creative design project work.