Brighten Your Bag – Croydon Schools Show How to Shine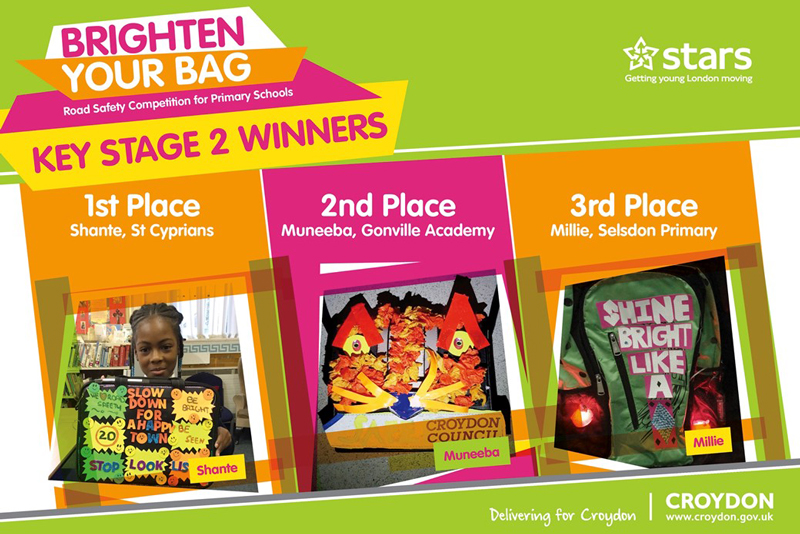 'Shine bright like a diamond'… how can a lyric from a Rihanna song inspire a child to become a road safety competition winner?
Teaching children how to be safe and seen near traffic is much easier if you hand the creative reins over to them and get them to convey the messages in a way which engages them and their peers.
For this week's blog we look at how the London Borough of Croydon's Road Safety team, in partnership with Brightkidz, have successfully run their third annual 'Brighten Your Bag' competition for schools in the borough… and how this can be replicated in your area.
What is 'Brighten Your Bag'?
Brighten your Bag is a road safety design competition organised by London Borough of Croydon's Road Safety team in partnership with Brightkidz. The competition was designed to help schools promote road safety messages, themed around good visibility for pupils, encouraging them to consider how they are seen whilst travelling.
In the autumn term the Road Safety team invite all primary schools in the borough to take part. Pupils are asked to design a 'bright bag' which can help them to be seen. They either add bright and reflective materials to a bag they already have or they can draw a design of a bright bag as a 'paper entry'.
Each participating school selects their best entries to submit for judging. These are judged by the road safety team and a shortlist created which is then judged by Brightkidz.
The winners are announced early in the new year and schools hold presentation assemblies where the winners and runners up are presented with certificates and prizes. Schools are encouraged to share their success within their school community and on social media. Taking part in the competition can be used towards a school's travel award accreditation.
Prizes and Recognition
A selection of prizes were awarded to pupils. These were purchased by London Borough of Croydon and were all related to the activity or learning – the bags and waistcoats from Brightkidz and the scooters and book tokens from elsewhere.
The prize-giving role was handed over to the schools and they presented pupils with prizes and certificates at special assemblies… with some schools following up with a photo-call. The photos taken are not just for giving the winning pupils further recognition, or for publicity purposes, but also can be submitted as evidence towards the STARS accreditation which is run in London by Transport for London.
How Did it Go?
Here are some quotes from one of the winners and some of the teachers from participating schools:
Shante, who won a scooter, said "I did it because I wanted people who were riding their bike or scooter or are walking to be seen and if you have a bright bag you will be seen and not get hurt. It was a lot of fun to do."
Rachel MacKinnon, St Cyprian's Greek Orthodox Academy: "We ran the competition as part of our Inclusion Week where we learn about lots of ways we can stay safe including road safety. It is a great way to get the children and adults thinking about how they can be seen on the roads especially in the winter months where the nights are longer."
Rebecca Rolfe, Whitehorse Manor Infants School: "With the short winter days, many of our children travel to and from school in the dark. We strive to keep our pupils safe and visible during their journeys. By taking part in Brighten Your Bag, our hope was to promote road safety and highway awareness in a fun and exciting way​. Our children loved taking part in the competition and are already talking about their bag designs for next year!"
Working in Partnership
Three years ago when this competition was first launched Brightkidz was approached by Croydon Council Road Safety team to see how we could collaborate. As a social enterprise promoting walking, cycling and road safety it was great for us to be involved. Increasingly, local authorities are forming partnerships with social enterprises to further their combined aims in a way which is financially sustainable on both sides and this is just one example.
Although the competition does not rely on pupils having access to 'hi vis' materials, they were given some to help inspire. Brightkidz provided Croydon Council with some production offcuts/factory seconds of fluorescent, reflective materials which the Road safety team then distributed free of charge to schools which expressed an interest.
Croydon Council purchased prizes from Brightkidz – high vis rucksacks and sets of high vis waistcoats for winning schools.
The road safety team organised and promoted the competition and then judged the bulk of entries with shortlisted entries being sent to Brightkidz for final judging.
The winners' assembly presentation was put together by the road safety team and prizes distributed.
And of course by working in partnership with Brightkidz the whole initiative gets featured in a Brightkidz blog; by sharing these ideas we hope you will be inspired too!
Try it in Your Area
Have you been inspired to hold your own 'Brighten Your Bag' competition in your local authority or school? You can adapt the Croydon scheme for your area from the ideas they had. Here are some more ideas to help you:
If you are a teacher and just want to run the competition in your school you can do this on a smaller scale. Make use of the photos or drawings of the entries – they can make a great display for your active travel/road safety noticeboard.
For the bright resources ask your school community to help you out – for example a parent or local business may donate unwanted high vis jackets which can be cut up into pieces of fluorescent and reflective materials. Use tin foil, neon marker pens and other household or classroom resources to make designs bright.
Be open to different ideas… we've seen Christmas lights wrapped round bags for this competition which may not be practical for day-to-day use but pupils will get more out of it if you let their creative minds wander.
Make sure you (or the schools you work with) collect evidence of your activity with photos etc so you can use it towards a school travel accreditation scheme such as TfL STARS (in London) or Modeshift STARS or your own local scheme.
Use this activity alongside your other active travel/road safety education initiatives to make sure pupils learn about the key messages.
Make sure prizes are relevant to the task and for the age group. This competition could be adapted for pre-schools but with different prizes.
Promote the results of the competition to help raise further awareness of the key messages being taught and to help those messages to get back to parents and carers.
Calling all teachers, school travel advisors and road safety professionals!
Sign up here for Bright News – our regular enews full of tips, events, offers and product news to help you promote safe, active, sustainable travel for children.