Bus, Train, Tram, Cycle or Walk for Better Transport Week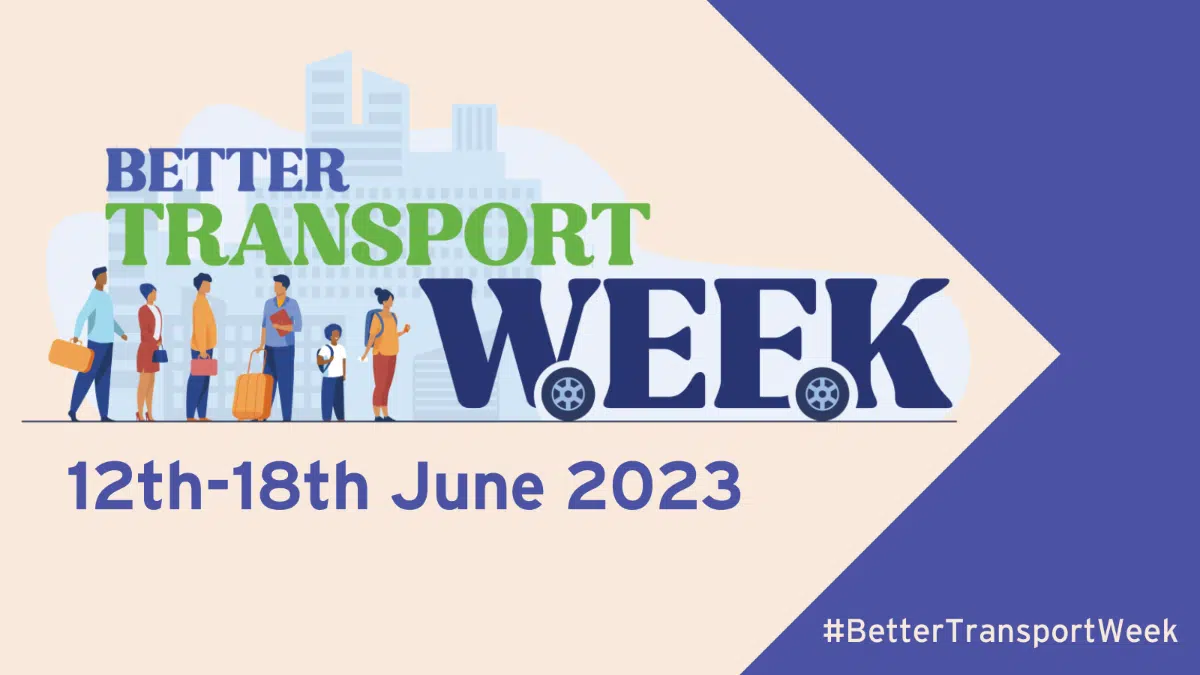 How many modes of transport do you regularly use? Have you managed to move away from car dependency and vary the way you travel? Do your colleagues or pupils need encouragement to try other ways? This week is Better Transport Week (12 to 18 June 2023) and the aim is to promote the benefits of public transport, shared mobility, walking and cycling and encourage more people to travel sustainably.
Headed up by Campaign for Better Transport charity, the week will be profiling and promoting bus and train services as well as other green ways to get around such as cycling, walking and linking different modes of travel in effective ways. However it is not just about how people get around but about how goods and freight can be transported in better ways too.
If you are working towards a Modeshift STARS sustainable travel accreditation for your school, business or organisation, don't forget to log any Better Transport Week activities you organise or take part in this week.

A Week of Positive Transport Ideas
The week is split into a different theme for each day and even ties in with another big event in the 'health' calendar – Clean Air Day on Thursday. Here we share their plans for the week with you:
Monday 12 June – Rail Day. The Campaign for Better Transport team members will be meeting passengers at Kings Cross St Pancras, hosting a rail roundtable at the Railway Industry Association and inviting the public to celebrate train travel and rail stations, with prizes including Eurostar tickets to Paris! (More info below).
Tuesday 13 June – Bus and Coach Day. The campaign will be celebrating our most used form of public transport with the public encouraged to thank their driver and share why buses and coaches are important to them. Did you know bus commuters add an impressive £64 billion to the economy each year?!
Wednesday 14 June – Local Transport Day. Their team will be in Manchester for a local transport roundtable, followed by 'Light Years Ahead', their special tram and light rail event. There will be a 'Ride to Rail' challenge with prizes available for supporters to highlight the importance of integration between modes. Could you cycle to your train station for a green 'multi modal' journey?
Thursday 15 June – Health Day. Highlighting the links between better transport and better health including a partnership with Global Action Plan on Clean Air Day. We will bring together experts from the health and transport sectors, while supporters will map walking routes that connect to public transport. We love the Clean Air Day resources published by Global Action Plan which can be downloaded free of charge for event organisers. Take a look here.
Friday 16 June – Business Day. With business groups, shared mobility providers and innovators in delivery and freight, the Campaign for Better Transport team will be encouraging businesses and business groups to maximise the benefits of incorporating sustainable travel into their operations, and promoting better transport for better business.
Saturday 17 and Sunday 18 June. The week of events will be rounded off with two days of promotions to celebrate public transport, walking and cycling. Take advantage of their partner promotions for fun days out, and a very exciting competition.
Win Eurostar Tickets to Paris
Take part in this prize draw – all you need to do is tell the folk at Campaign for Better Transport why in your opinion travelling by train is the best way to travel internationally. Competition closes on 22 June 2023 and there are seven return Eurostar tickets to Paris as prizes.
Find Out More
Find out more about Better Transport Week and see the wide range of great offers they have from partners. Share your activities on social media with the #BetterTransportWeek.
Brightwayz Sustainable Travel Campaign Resources
Here at Brightwayz social enterprise we love to provide information and tips to help you, your colleagues, friends and family travel in safe, active, sustainable ways for everyday journeys.
Our unique range of products is here to help support your active travel campaigns and 100% of profits from sales is ploughed back to support the work we do. Take a look at our range here and find something to help you inspire others to travel in good ways.
Happy travels everyone!