Catch The Bus Week 3-9 July Guest Blog and 12 Ways to Promote Bus Travel to Children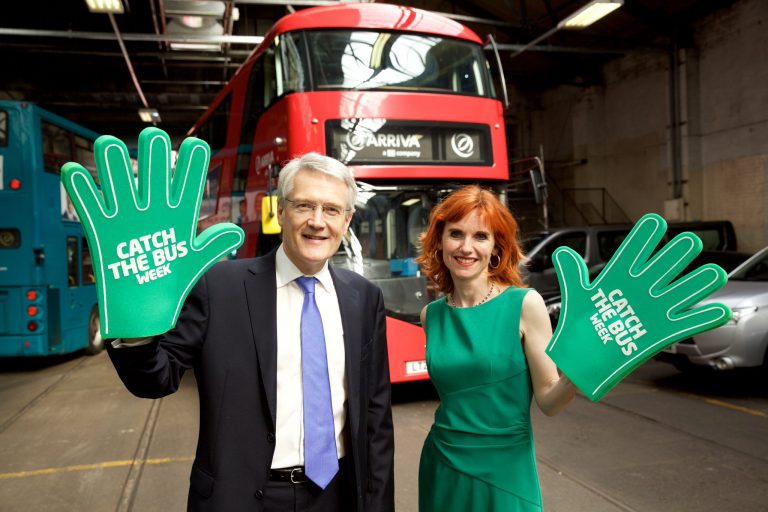 Why drive when you can be driven? Personally I'd much rather travel by bus than take the car… my time is my own to check my phone and I don't need to worry about the traffic or finding a parking space.
However, many of us are in the habit of driving everywhere and would not think of taking the bus despite the growing levels of congestion and pollution. Children are growing up dependent on their parents for lifts and even unaware of how to read a timetable and catch a local bus… maybe not even knowing how to get it to stop!
Catch The Bus Week is a national celebration of the benefits of taking the bus. It runs from 3 to 9 July this year, it is a great opportunity to promote bus travel and best of all, anyone can get involved.
Now I'll hand over to an expert on the matter; Claire Haigh from Greener Journeys, the campaign group behind the initiative, is our guest blogger for today. Then stay around for our 12 Ways to Promote Bus Travel to Children. First, over to you Claire…
Catch the Bus Week 2017 – Guest Blog from Claire Haigh of Greener Journeys
Catch the Bus Week is almost here – our annual celebration of the bus which will take place from July 3-9.
Now in its fifth year, Catch the Bus Week continues to go from strength to strength. This year's event promises to be bigger than ever with hundreds of schools, local authorities, bus companies, passenger organisations and MPs coming together to encourage people to leave the car at home and hop on the bus instead.
Greener Journeys has been busy over the last few months preparing for this year's event and we've been overwhelmed by the support we've received so far. Requests for our signature green hands have been flying in and we look forward to seeing them on display across the UK. You can order them here.
Catch the Bus Week is all about celebrating the bus in a fun way – but it delivers an important message.
Buses are Britain's most widely used mode of public transport but despite being vital to our society and our economy, they rarely get the recognition they deserve from the media and the public.
Buses carry millions of people to work, places of education, town centres and to visit friends and family. Travelling by bus is great for your health, boosts your local economy and is great for the environment.
New research for Greener Journeys shows that rising congestion is damaging the bus sector, putting its future under threat. That's why Catch the Bus Week is so important – we need as many people as possible to get out of their cars and show their support for the bus.
Any schools or local authorities wishing to take part in Catch the Bus Week should contact their local bus company or council to find out what activities and events will be taking place near you.
The easiest way to show your support and celebrate the bus is to take to social media. You can use the hashtag #CTBW to share your experiences and photos of catching the bus.
This is a great opportunity to show the nation the benefits of getting the bus. So, grab your smartphone, hop on a bus, and join in!
For more information about ideas or ways to get involved, please visit www.catchthebusweek.co.uk
By Claire Haigh, Chief Executive of Greener Journeys
Thank you Claire – now back to Brightkidz for some more ideas on how to promote bus travel for children…
12 Ways to Promote Bus Travel to Children
If you are a teacher or a school travel professional trying to find ways to encourage children to travel by bus, check out these ideas for Catch The Bus Week… or anytime.
If your school is taking part in the Modeshift STARS School Travel Awards, these activities can count towards your Modeshift STARS accreditation (some specific actions are mentioned; for others use STARS action PT2 School promotes public transport).
1. Contact your local bus operator to see if they are taking part in Catch The Bus Week and what activities, promotions or competitions they are running that you can get involved in. STARS action: PT9 Catch the Bus Week.
2. Hold a 'Design a Bus Card Holder' competition. Get the winning entry printed onto travel card holders to give out to all participants. STARS action: PT5 School promotes young person's travel.
3. Design an advert, or slogan for an advert, which promotes bus travel and could go on the back or side of a bus. Show your local bus operator may like to see your ideas – they could inspire an actual advertisement!
4. Show pupils how to find local bus times on the internet and how to read a bus timetable. This is not only teaches them a practical use for 24 hour times but is also good practice using keys and symbols. See the BBC Skillswise website bus timetable activity (for adults but suitable for older children too).
5. Map a route using a local timetable. Look at the full detail of the timetable which shows all the stops. Mark each stop on a print out of a map. Use the map's key to work out the distance covered by the whole route. Next step is to actually travel the bus route, crossing off the stops as you go.
6. Create a 'Bus treasure hunt' where you have a tick list of or questions about local features pupils can look out for and answer when they travel a certain bus route.
7. Work with a team of pupils such as JRSOs, JTAs, your Eco committee or school council members to develop a set of rules for Bus Behaviour and to promote bus safety. This can be used for bus journeys to and from school or for bus travel within the school day.
8. Help a group of older pupils to prepare an assembly on 'how to catch the bus' incorporating bus behaviour rules and why it's good to go by bus. They can act out mini 'what to do -v- what not to do and why' scenes. STARS action: PT3 School promotes responsible behaviour on public transport.
9. Get a class to prepare a survey about bus use, how often people use it and what people do and don't like about the buses. They can then survey parents and teachers and then analyse and present the answers. Your local bus company may be interested in the results!
10. Include promoting bus travel in your school travel plan and your information about your school. For example on your website, does your 'Directions' information include details of nearest bus stop and route number?
11. Set up a 'bus buddy' scheme for new pupils starting secondary school. They are paired with older pupils from their neighbourhood to travel with if their journey to school is by public bus. This can make bus travel easier for new starters and encourages friendships between different year groups.
12. Take your pupils out on the bus. If you use public transport it makes pupils more comfortable and familier with it even if their own parents never take them on the bus. If they gain the confidence and knowledge they will be more likely to use the bus when out with friends. STARS action: PT1 Public transport used for school trips.
By Alison Holland, Brightkidz