Good cycle security is essential to protect your bike from theft. Your bike is valuable to you, not just in money terms but in comfort, convenience and familiarity and you don't want to lose it.
Your staff, visitors or others will feel the same way too if they cycle. Also fear of theft is a big barrier to many people cycling so if you want more people to cycle, why not share some of our tips with them on how to keep their bikes secure?
How to Lock Your Bike Securely
Cycle security is a tricky business. There are seemingly endless options for locks and insurance on how to protect your valued steed. There are also many additional things you can do to reduce the risk of theft which cost little or nothing.
Some locks are stronger than others and price reflects their quality so it pays to invest in a good one, especially as it could potentially save money in the long-term!
There are locks which are "Sold Secure"; a sign they are tested and offer more protection than locks without this stamp
Another good thing to remember is that two locks are better than one! D-locks are sturdy but consider using a cable lock as well to secure any parts of the bike which could be released, such as the saddle or front wheel.
Use locks to secure the frame, spokes and bike stand, ensuring there is little room for manoeuvre to make it difficult for thieves to insert their tools. Make sure the lock is not touching the ground, where it can be smashed with a sledgehammer. Finally, make sure you are attaching your lock to an immovable object, such as a sturdy bike stand or railing.
Location, Location, Location
Where you park and lock your bike is an important part of your security:
leave it on a well-lit and busy street
avoid leaving your bike in the same spot every day so it doesn't get spotted by thieves
at home, take the same precautions and always keep your bike locked up and out of view
if possible, park it near CCTV.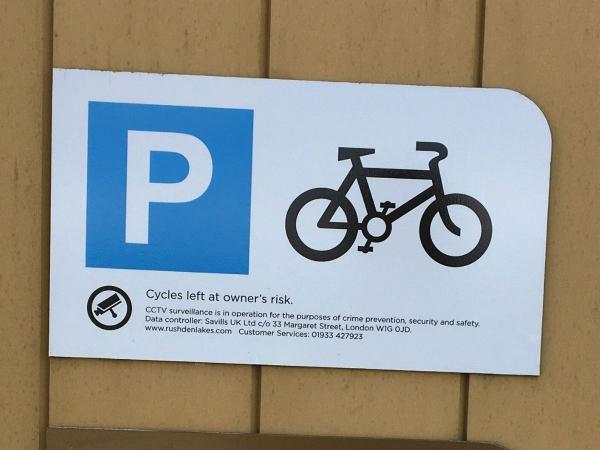 Accessories
Take any removable accessories with you, such as panniers and lights.
If you have an expensive saddle and wheels, then take time to lock these as well.
With e-bikes you may wish to remove the battery and take that with you.
Use two locks - here a cable lock and D lock are used. The battery shown at the back can also be unlocked and removed for extra security.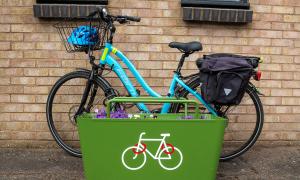 The Pitfalls of Social Media
There are plenty of apps and sites out there where people share pictures of their beloved ride; maybe more for leisure and sport cycling than commuter rides. Tracking apps without appropriate security filters applied offer potential thieves all the information they need to find where our bikes are stored. Other social media platforms show them the specification, accessories and even our routine so they know when our bikes are unattended.
It is very important to set all privacy filters to keep information away from unwanted eyes, plus to limit how much we share about our prized possessions. Also consider not posting a regular coffee stop for longer rides, as these can be targeted by thieves.
Finally, be cautious about who you connect with on these platforms to avoid strangers stalking your movements and your bike!
Register It
Record information about your bike somewhere secure, such as the frame number, where and when purchased etc. Take a photo on your phone too.
Register your bike with Immobilise or Bike Register, which is a service used by police to match recovered bikes with their owners. Local police will also offer bike marking, so look out for this advertised in local press and through posters at railway stations and leisure centres.
Take care to lock your cycle up securely especially in public places.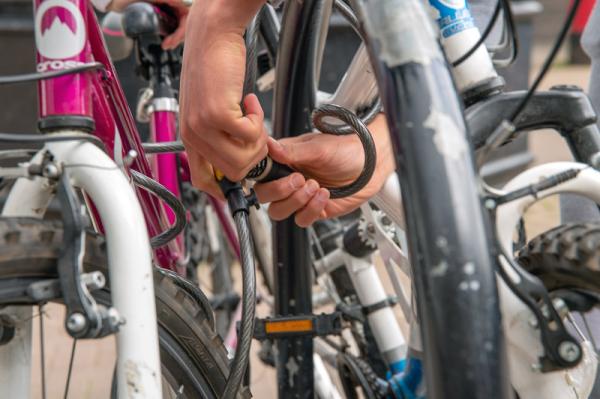 Insure Your Cycle Against Theft
Most home insurance policies cover bikes within the home up to a certain amount. Some even insure outside of the home, although it is worth double-checking your policy wording. You can specifically add details to the policy to make sure your bike is covered for the correct amount.

If you have a particularly expensive bike or lots of bikes to cover, there are specific insurances out there. These can vary in terms of cost and cover, so it is worth comparing companies before committing to a policy.
Here at Brightwayz social enterprise we love to provide information and tips to help you, your colleagues, friends and family travel in safe, active, sustainable ways for everyday journeys.

Our unique range of products is here to help support your active travel campaigns and 100% of profits from sales is ploughed back to support the work we do. Take a look at our range here and find something to help you inspire others to travel in good ways.