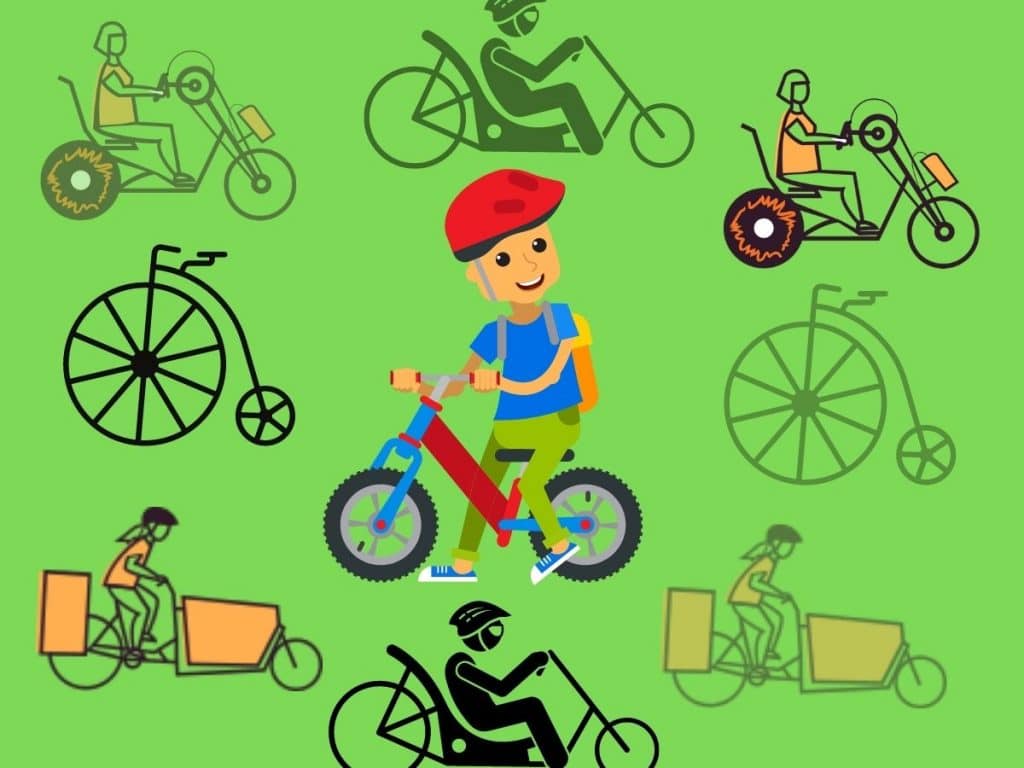 2 minute read + activity
Did you know bicycles are not the only kind of cycle? A bicycle has two wheels but there are lots of other cycles which don't have two wheels or are different in some other way.
Big Loads or Clowning Around
Cycles often vary because they have been adapted for different uses – for example a cargo bike is designed to carry big loads, and a unicycle may be used by a clown to entertain us with clever balancing skills.
All Abilities
Many cycles are different from standard bikes because they have been adapted for different people's abilities or skills. A child learning to cycle can use a balance bike – that is a bike without pedals so they can get used to handling a bike whilst being able to still touch the ground before they are confident and practiced enough to whizz off.
Cycling is really great fun and should be available to everyone. Some people who are unable to walk can still cycle, for example by using a hand cycle – this enables all the 'pedalling' to be done with your hands and the 'hand pedals' are cleverly linked to the wheels by a chain to make them move.
Ups and Downs
Of course some styles of cycle are easier than others to use. In the Victorian times, the penny farthing was designed with a large front wheel and small wheel behind. What a long way up to sit! Since then the designs have become a lot more practical and easy to use thank goodness.
In a way, the opposite of a penny farthing is a recumbent cycle – as the rider can sit back really low to the ground. Your weight is spread out and it is a more aero dynamic style (less resistance from the wind).
Three Wheels are Great
Other styles of cycle which you may already know include tricycles or trikes. These are not just for children but are also popular with many older people and those with disabilities as they are more stable.
Your Turn
Try out our fun activity – Cycle Style – to test your knowledge of different kinds of cycle.
Download our free pdf Cycle Style Printable Activity Sheet or use the image below.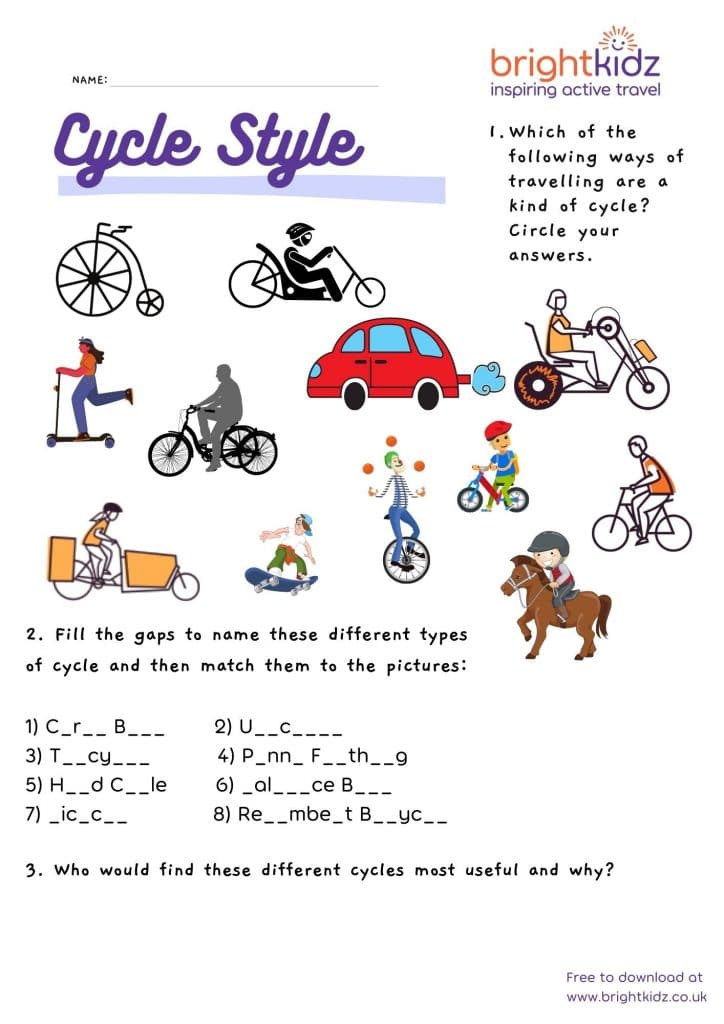 This activity was brought to you by Brightkidz social enterprise.
Enjoyed this one? Try some of our other free downloadable active travel activity sheets:
Travel Habits Family Interviews
Check out our range of active travel campaign support products in our Brightkidz shop here. 100% of profits are ploughed back to fund active travel resources such as this as well as the projects we run with schools.