Cycling to School – Keeping Safe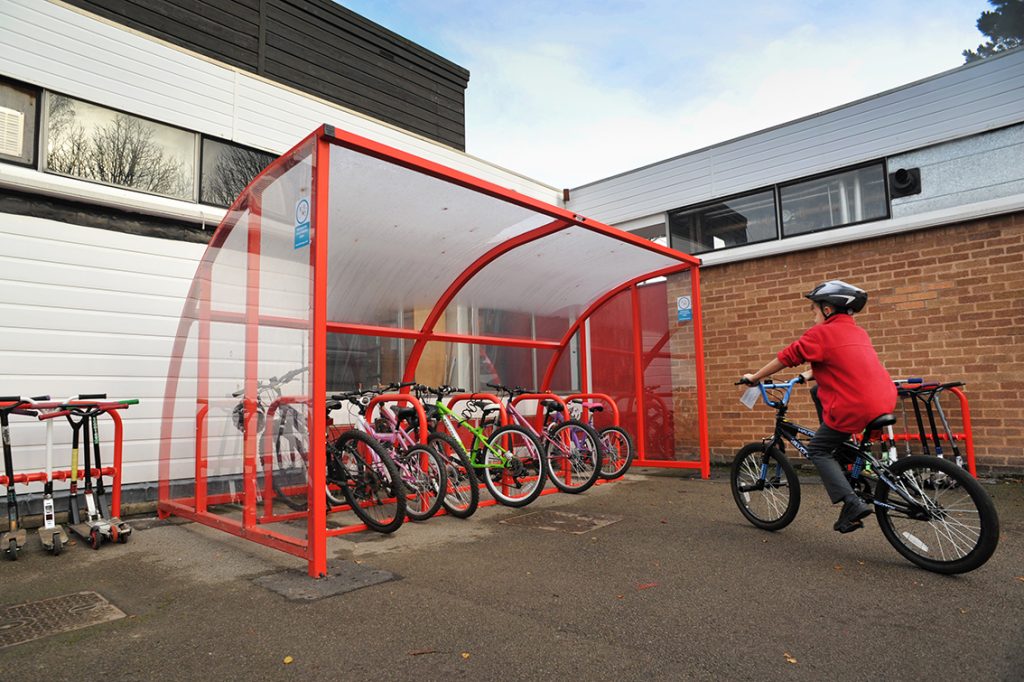 The kids have gone back to school… maybe to new schools… and maybe they are trying a new way of getting there: cycling.
So this week we welcome back guest bloggers and cycle shelter suppliers Broxap with tips on how to keep your children safe when cycling to school… or anywhere! Take it away guys…
Guest Post from Broxap
Cycling to school is a great way to introduce daily exercise into your children's lives. This great activity can improve health, fitness and even intellect. However, many parents have reservations about allowing children to use their bikes when travelling to school. This can be due to safety, especially when it comes to cycling near or on roads. A great way to encourage bicycle safety is to introduce children to the Highway Code from a young age, this will ensure that they know the dangers of cycle complacency, as well as the correct cycling procedures.
Ensure You Have the Correct Bike
Bicycles come in all sorts of shapes and sizes, and parents should ensure that children are riding the correct bike for their size. When choosing their new bike you must always ensure that you have both your child and their bike measured by a professional.
Bike size is in direct correlation with both weight and height! All children are different meaning that every child's bike should be different too! Children's bicycles can be specially made to suit your child in any colour or design, this means that even if you cannot get a bike straight from the high street, you can still have it covered with their favourite cartoon character.
Correct Helmet
Much like the bicycle, helmets are not "one size fits all." This means that when purchasing a helmet you must ensure that you buy the correct one for your child. All helmets must be well ventilated and fit government regulations. Choosing a traditional streamlined style cycle helmet will provide the most protection, and is therefore the best option.
When choosing a helmet for your children it can be tempting to go for a style that involves their favourite cartoon character. However, this is not always the safest option.
Lights and Reflectors
Not only is it a legal requirement for all bikes to have lights and reflectors, it is also paramount to cycle safety. All bicycles must have a white light on the front, as well as a red light and red reflective strip on the back. Pedals must also have two amber reflective strips on either side of the pedals in order to ensure that children are seen even in low visibility.
It is also suggested that you have reflective strips on your helmet, any bags and also on your shoes so that children can be seen, even if the bike cannot.
Fluorescent, reflective clothing should always be worn. Wearing fluorescent, reflective vests or coats over your uniform or winter coat ensures that you can always be seen during both day and night. This promotes safety and reduces visibility related incidents.
Correct Clothing
Cycling to school means that you probably will not be wearing specialist Lycra cycle shorts, and will most probably be in school uniform. This means that you have to ensure that your child is wearing appropriate clothing that does not hang loose.
Loose clothing can get caught in bike chains thus resulting in injury. To ensure safety, children who cycle to school should wear trousers or shorts, rather than skirts or dresses. If your child must wear a dress, then put on some PE shorts and tuck the dress into the top of the shorts whilst they ride.
Stick to Cycle Lanes and Routes
There are plenty of cycle lanes and cycle routes that will ensure that you can get to school safely. By sticking to these rather that cycling on the road, you can ensure that children will get to school safely.
Whilst riding to school always ensure that children are accompanied by a responsible adult, and that they ride behind the child at all times. If two adults are accompanying the child have one ride in front, and one behind. This ensures that children's safety is optimised.
Cycle Shelters
Cycle shelters give pupils a safe place to store their bikes. Having specialist cycle shelters within the school grounds can increase the amount of pupils that cycle to school.
Providing a safe place to store bikes reassures parents that their children's bicycles will be safe whilst they are at school, thus making parents more likely to allow their children to cycle. Many parents are seen carrying bicycles home after dropping off their children, this is be tiresome and means that children do not benefit from also cycling back home from school.
Broxap design manufacture and install cycle shelters in schools. Cycle shelters provide a safe place for pupils to store both bikes and scooters. The sturdy design can hold many bikes meaning that you can get the entire school cycling in the mornings!
Here are pupils from Burbage Junior School in Hinckley, Leicestershire celebrating the opening of their new Broxap cycle shelter.
Local BMX UK and European Championship Freestyle BMX Champion Keelan Phillips was there to perform some of his breathtaking tricks and stunts for the pupils and help launch the opening of the shelters and the promotion of cycling to school. Find out more here.
With thanks to Broxap for this guest blog, hosted by Brightkidz. www.broxap.com