How to Organise a Walking Bus
"How do you start a walking bus?" is a question we are often asked. Setting up what is effectively an organised walking group is a great way to encourage more walking to school.
If you've seen groups of children heading for school decked out in high vis jackets, you've probably seen a walking bus.
Walking Buses and Brightwayz
For years we have been providing information about walking bus schemes... Brightwayz was originally Brightkidz and actually started after we set up a walking bus at our own local school and realised there was a need for more resources to support them (which is when we started with selling high vis jackets).
However, we knew there was also a need for some really engaging resources to not only give information about walking buses but to inspire and encourage others to join in or set up their own. Back in 2018 we worked with Bath and North East Somerset Council to collaborate with them on a project to develop a fun and informative professionally produced series of walking bus videos.
Now these are available to support and inform you or anyone interested in starting a walking bus scheme.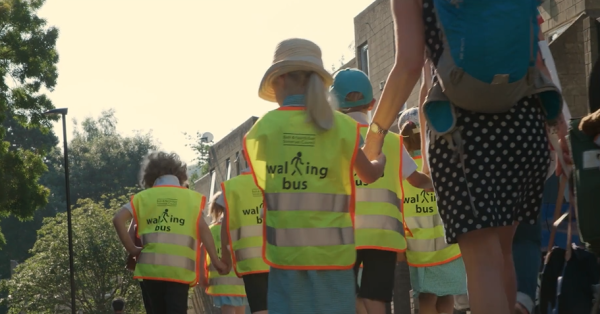 Walking Bus Video Resources
The star turn is the fun animation showing a walking bus in action and the voiceover from a child's perspective. It's a great way to introduce the walking bus concept not just to pupils but to teachers and parents too.
This is supplemented with a video interview with teachers to show their perspective as well as a video interview from a parent's perspective. These are interlaced with scenes from a walking bus in action in the beautiful city of Bath. Further short videos include tips from Brightwayz founder (and former walking bus parent organiser) Alison Holland on how to deal with issues such as living too far to walk or wanting to engage older primary school children so they don't need to be driven to school.
Although these resources were developed some time ago they continue to be relevant and available for anyone to see and use free of charge (subject to keeping original credits).

Here at Brightwayz social enterprise we love to provide information and tips to help you, your colleagues, friends and family travel in safe, active, sustainable ways for everyday journeys.
Our unique range of products is here to help support your active travel campaigns and 100% of profits from sales is ploughed back to support the work we do. Take a look at our range here and find something to help you inspire others to travel in good ways.