How Walking Helps Your Children's Mental Health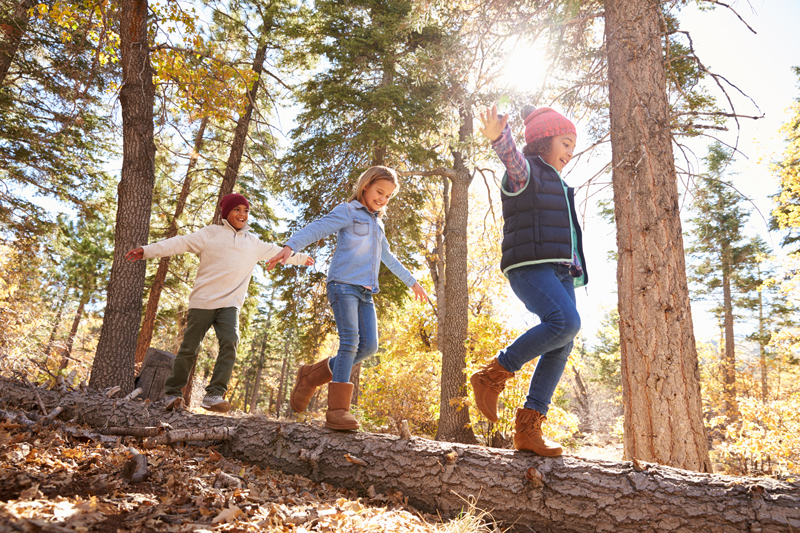 Why should we encourage our children to walk more? We know walking is good for their physical health but did you know it is good for their mental health too?
Here are four ways in which walking can help improve their mental well-being… and make them happier too.
A Good Habit for Healthy Minds
Child mental health is an issue that often gets swept under the rug and providing the right support through childhood years is critical to their future. With NHS cuts, two-thirds of children referred for mental health care are now not treated. It's vital for parents, schools, and charities to help and support children from a young age in taking care of their mental health.
Walking is an excellent way to maintain not only physical but mental health in children. Encouraging them from an early age to walk regularly sets them up with positive habits later in life.
1. Reduce Chances of Developing Depression
The number of children developing mental health issues such as depression and anxiety has soared over the past few years: one in four teenagers now experiences depression.
Physical activities such as walking can help prevent children developing depression. In addition, it can be a complementary method to treating childhood depression. One study conducted on children between the ages of 6 and 8 found that moderate exercise leads to fewer symptoms of depression in those same children 2 years later.
2. Better Concentration
A Danish study conducted on 20,000 children between the ages of 5 and 19 found that children who walked or cycled to school have better concentration. The children were asked to perform a number of concentration-based tasks such as solving puzzles. Those that arrived at school via bike or walking perform better at these tasks than those who arrived via car or public transport.
Simple things like walking can have a powerful and lasting effect on your child's development. By encouraging them to walk, not only are you helping them to understand the importance of physical health, but improving their concentration which in turn will improve their performance in the classroom.
3. Connecting with Nature
Walking offers a chance for your child to get outdoors. With phones, tablet and computers overtaking our lives, many children aren't spending enough time outside. Lack of connection with the outdoors is one of the major factors in the rise in child mental health problems in the UK. Spending time outdoors allows children to clear their heads, connect with nature and learn about the natural world.
Lack of vitamin D (which is absorbed through the skin from sunlight) has been linked to the development of a number of mental health conditions in children. Getting kids outside and walking even 15 minutes a day can naturally expose them to vitamin D and have a positive impact on their mental wellbeing.
4. Improved Sleep Patterns
Tiring children in the day with physical activities like walking helps them fall asleep more easily at night. A study done by the Monash University in Australia found that exercise plays an important role in sleep patterns in children. Those who participate in physical exercises during the day fall asleep faster and for longer at bedtime showing they have higher quality and deeper sleep.
Sleep is vital to child development, affecting their behaviour, memory and social skills. Encouraging your child to walk throughout the day can help ensure they develop into a happy and healthy adult.
An Investment in Your Children's Future
Physical activity is one of the best things you can do to ease the symptoms of any mental health condition. Walking is one of the easiest physical activities around, you can do it practically anywhere without having to invest in equipment like many sports – you just need a comfy pair of shoes.
Walking is an investment in your child's future. It's a great way to help them with mental health conditions by increasing their feelings of calm and happiness. It's also a great way for them to explore the area they live in, feeding their curiosity and promoting their independence.
Ways to Get Them Walking
Whether you are a parent or teacher, if children in your care need some encouragement to walk more check out these products and ideas:
Shiny feet stickers – every time your child walks, reward them with a shiny feet sticker to make a trail across a bag or a home made 'walking passport'. Keep it up until they are well into the walking habit.
Shiny star stickers – take them out walking at night, teach your children about the stars and get them to complete their own constellation charts with a sticker each time they walk. Make sure if they are out after dark you all remember to wear or carry something reflective to help yourselves to be seen.
Teddy Mascot – this idea is for encouraging children to walk to school and can be organised by your school as an inter-class competition. Record who walks. The class with the most children who walk to school each week/term are awarded the teddy mascot to display in their class as a trophy. By recording you will get good data to prove how you are changing habits… don't forget to shout about it afterwards.
Walking Bus – start an organised walk to school with other parents to encourage more children to walk. Walking every day will really make a difference.