It's UK Spring Walk to School Week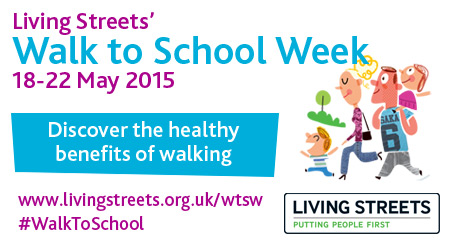 Walk to School Week is a fantastic way to celebrate walking to school and promote walking. Those who already walk regularly will have a bit of extra fun. Those who don't walk may be tempted to give it a go for the week – and then hopefully realise that it's great to walk any week, not just in Walk to School week. Because the week is so well publicised in local and national press it's another nudge to those parents who drive and might help them realise walking to school can be a realistic option.
Every school is different and school locations vary so much – a great aspect of WTSW is it allows schools to be creative and adapt their events to their own school. Here are some of the events that have been taking place and how they could inspire you for next year…
A special guest joined children from All Saints C of E (VA) Primary School, Datchworth, Herts for their walk to school… Buster the Steposaurus, who also joined in their morning fitness session. Special guests such as fun characters can make your walk to school event really special… ask your local council if they can help. Or a local business or football team may be pleased to let their mascot join your special walk to school.
Jersey's Transport Minister Eddie Noel joined twenty children from Bel Royal Primary School on their 'walking bus' this Monday morning. Invite your local MP, mayor or a councillor to make your event more special; it helps get press coverage and makes these influencers aware of the importance schools, pupils and parents place on walking to school. Just a tip… a Friday morning is usually the best day for availability of your MP when parliament is in session (in the UK).
Children at St Helens Preschool in Brentwood, Essex have been discussing the different ways they all get to pre-school. They designed a large mural for display showing the routes and different ways they travel. Walk to School Week is not just for primary schools. Preschools can get involved too – by promoting walking to early years pupils you will help them and their parents develop good habits for the years ahead.
It was Happy Shoesday for Gowerton Primary School in Swansea this Tuesday. They changed from thier usual school shoes to fun, bright shoes for their walk to school event – with bright laces, animal designs and footwear that makes them happy. A themed dress-up for a walk to school event can be be based on footwear, headwear or scarves. It encourages pupils to be creative, express their personalities and is so flexible that is should be hassle-free for parents. It can be planned and often prepared within the classroom (eg children bring in an old pair of shoes and 'bling' them within an art lesson).
For more information about Walk to School Week visit www.livingstreets.org.uk/walk-with-us/events/walk-to-school-week