Look Who's (Getting Kids) Walking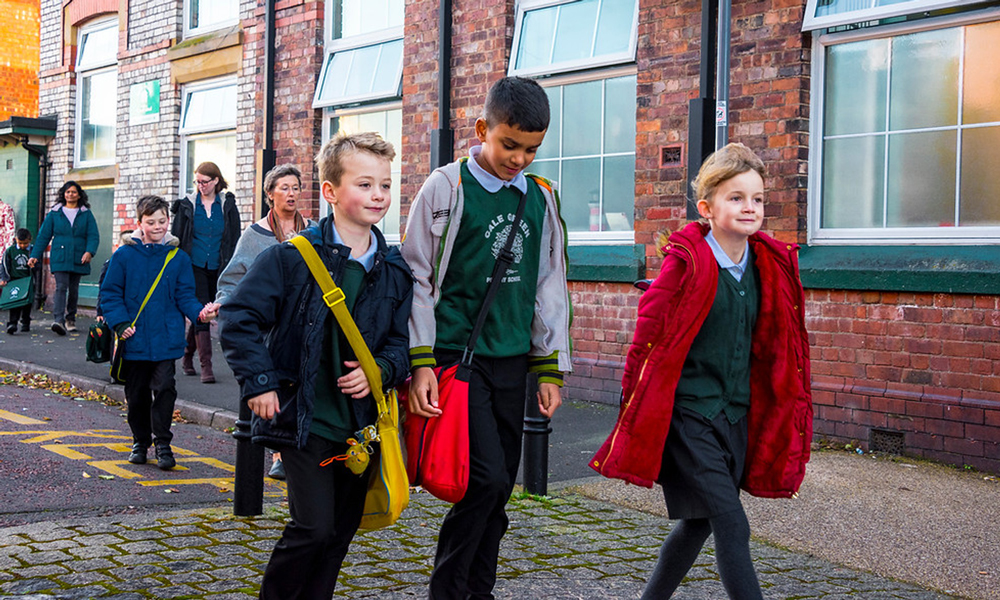 Welcome to the summer term… and the month of May, which is National Walking Month.
So it's perfect timing to encourage parents and pupils to leave the car behind and walk to school.
"Easier said than done", I hear you say. Ahhh… but help is on hand. Here at Brightkidz we don't just give you our ideas for promoting walking, cycling and road safety; we also tell you who else can help.
So for this week's blog we welcome our friends at Living Streets charity who have some great ways to promote walking to school. I'll hand over to Kevin from Living Streets to tell you more.
So Who Are Living Streets?
Living Streets is the charity for everyday walking. Our remit spans from campaigning for better streets (ban of pavement parking, slower speed limits, safer crossings) through to encouraging pupils, employees and community groups to walk more local, everyday journeys.
WOW Let's Walk to School
We've been running our Walk to School campaign for over 20 years, most predominantly through our year-round walk to school challenge – WOW. Through WOW, primary school pupils track how they've got to school through our WOW Travel Tracker or on WOW wallcharts. For those who've walked at least once a week (or travelled actively; cycled, scooted, or done a Park & Stride) they received a monthly badge based on an annual WOW theme. Over 100,000 pupils around the country take part in our competition to design the 11 yearly WOW badges and this year's winners are due to be announced soon!
More Children Walking
Today, just over half of all primary school pupils walk to school, compared with 70% of the previous generation. This decline is contributing to the rise in childhood obesity (a third of children who leave primary school are overweight or obese) and a decline in physical activity levels. However, through challenges such as WOW, we're seeing an average increase of 23% pupils walking to school.
Double the Money – School Premium and Sports Funding Can Support Your Walk to School Initiatives
We're also seeing a decrease in the number of cars stopping outside school gates and WOW also helps schools work towards meeting Ofsted requirements and is a great way of using a small percentage of the recently doubled PE and Sport Premium budget for schools. Walking to school also helps pupils arrive fit, refreshed and ready to learn while giving them the opportunity to socialise with their peers or family members before the start of the school day. Find out more about WOW at www.livingstreets.org.uk/wow
Walk to School Week is Coming Up
Walk to School Week (21-25 May) is a great stepping stone to year-round challenges such as WOW. A five-day walking challenge, it gets pupils excited and teaches them about the benefits of walking. This year's Walking Roots pack is taking pupils on a journey from root to leaves of a tree and for every day the class walks, they will learn more about its ecosystem. Walk to School Week is a great chance for every school which runs active travel initiatives to celebrate the benefits of walking – find out more about how schools can get involved at www.livingstreets.org.uk/wtsw
And for Little Feet
Teaching children about the benefits of walking from an early age really does help build healthy habits for life. That's why we've been developing a product for early years. Little feet, a walking challenge for children aged 2-5 encourages parents and settings to walk to, or from the pre-school/nursery to get little ones thinking about why walking is good for them. Our pilot, which ran in January proved a big hit and so we're launching the product to all in June this year. Find out more about our new Little Feet challenge at www.livingstreets.org.uk/early
Looking Ahead
Challenges aside, we are also developing our Walk to School policy and will be launching a report with recommendations on how government and schools can help us in our mission to get every child that can, walking to school. Watch this space!
If you'd like to contact me about any of Living Streets' work please call on 0207 377 4908.
By Kevin Croasdale, Living Streets.
Image credits: Living Streets, reproduced with permission.
Back to Brightkidz
Thank you Kevin.
If your school or organisation has a walk to school, cycling or road safety initiative to inspire others and which you would like to submit for a feature on our blog please get in touch with us at Brightkidz.