Postcards from Holland - Part One, Amsterdam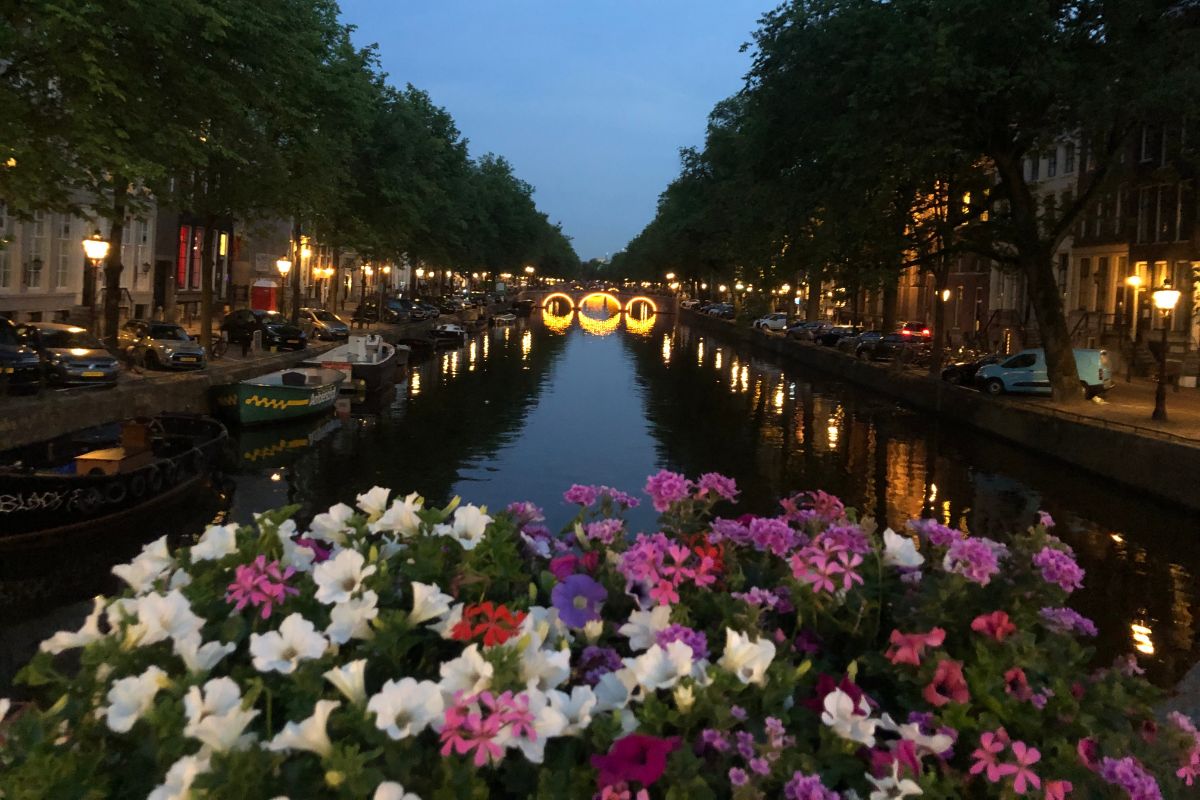 Holiday season is here! If you are looking for a trip abroad which is sustainable and inspiring for active travel then Holland by Eurostar is the perfect place. Here we take a look at what we in the UK can learn from the travel habits and lifestyles of the Dutch with my 'postcards from Holland'.

Getting There The Greenest way

Earlier this month our family (the 'Hollands'!) took the Eurostar direct from St Pancras in London to the heart of Amsterdam - around four hours sitting on a comfortable train. This was faster for total journey time than if we had flown by the time you count airport parking and check-in… and of course a much lighter carbon footprint.

Easy Trams

A night in Amsterdam meant a trip from the station to the hotel by tram. It was so easy to use with a 24 hour ticket option and plenty of information for tourists like us to know when their stop was coming up. The tram took us winding through the city where we saw many, many people cycling (of course) as well as some cars but nothing like the motor traffic we see in our cities.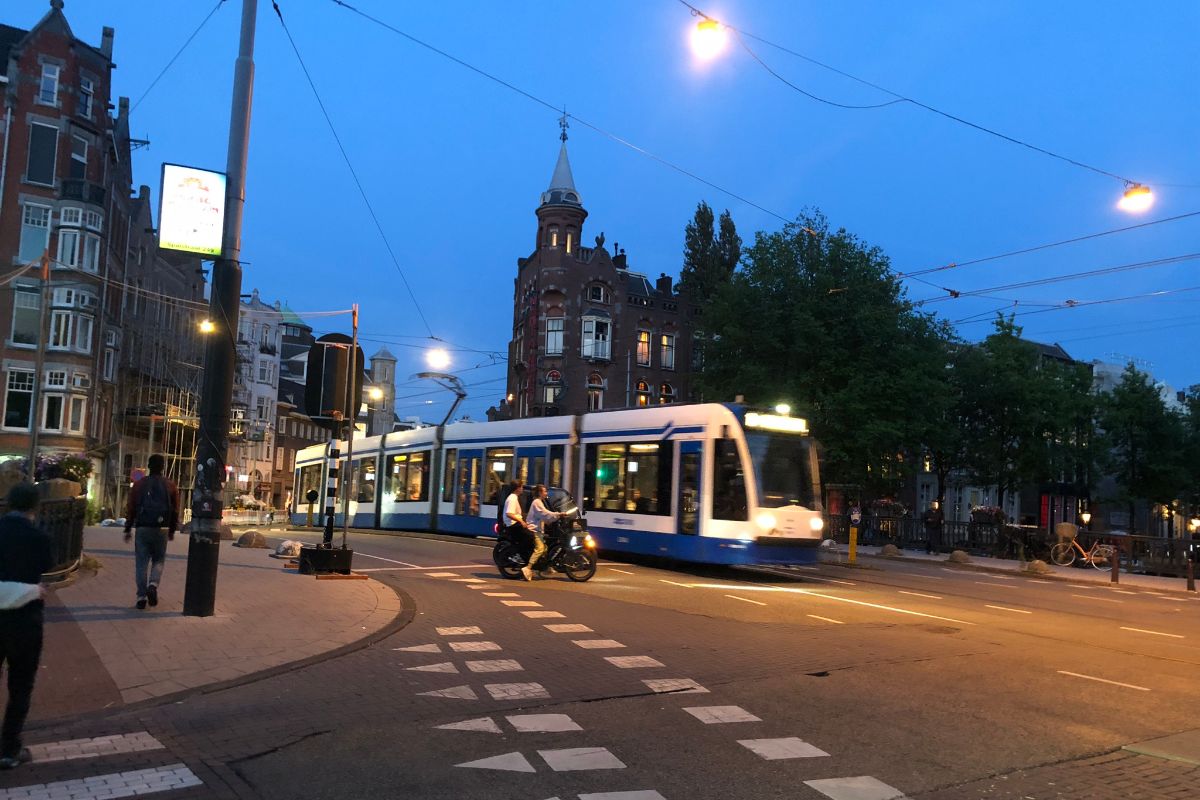 Tiny Cars

We spotted a few very small cars. A popular car model in Amsterdam is a tiny, tiny two seater - this is a 'micro-car' or 'brommobiel' which has a top speed of 45kph (27mph) and is for use by disabled people. These are allowed on certain cycle paths too so even those who really can't cycle can have good access everywhere.
Big Bikes
Some of the bikes were REALLY big; especially the cargo bikes which parents used to carry their small children. These could be open top (for a great all round view) or closed over (for protection against the elements). Some families just seem to pile their children on to their bikes and cycle along. Cargo bikes are also used for… cargo, ie deliveries to reduce the need for vans and to enable access anywhere at any time. Another popular use was for displays such as these decorated bikes - often advertising a business or service.
Cycling for All
Here in the UK you don't get called a 'walker' if you walk to your local shop to buy some milk… or even a 'keen walker' if you do it regularly! In the same way, noone gets called a 'cyclist' in Holland - because practically everyone cycles. The cycle network is so safe and good that everyone feels confident enough to travel in this easy way and let their children travel like this too. Then it creates a 'critical mass' where cycling is the norm and people just do it.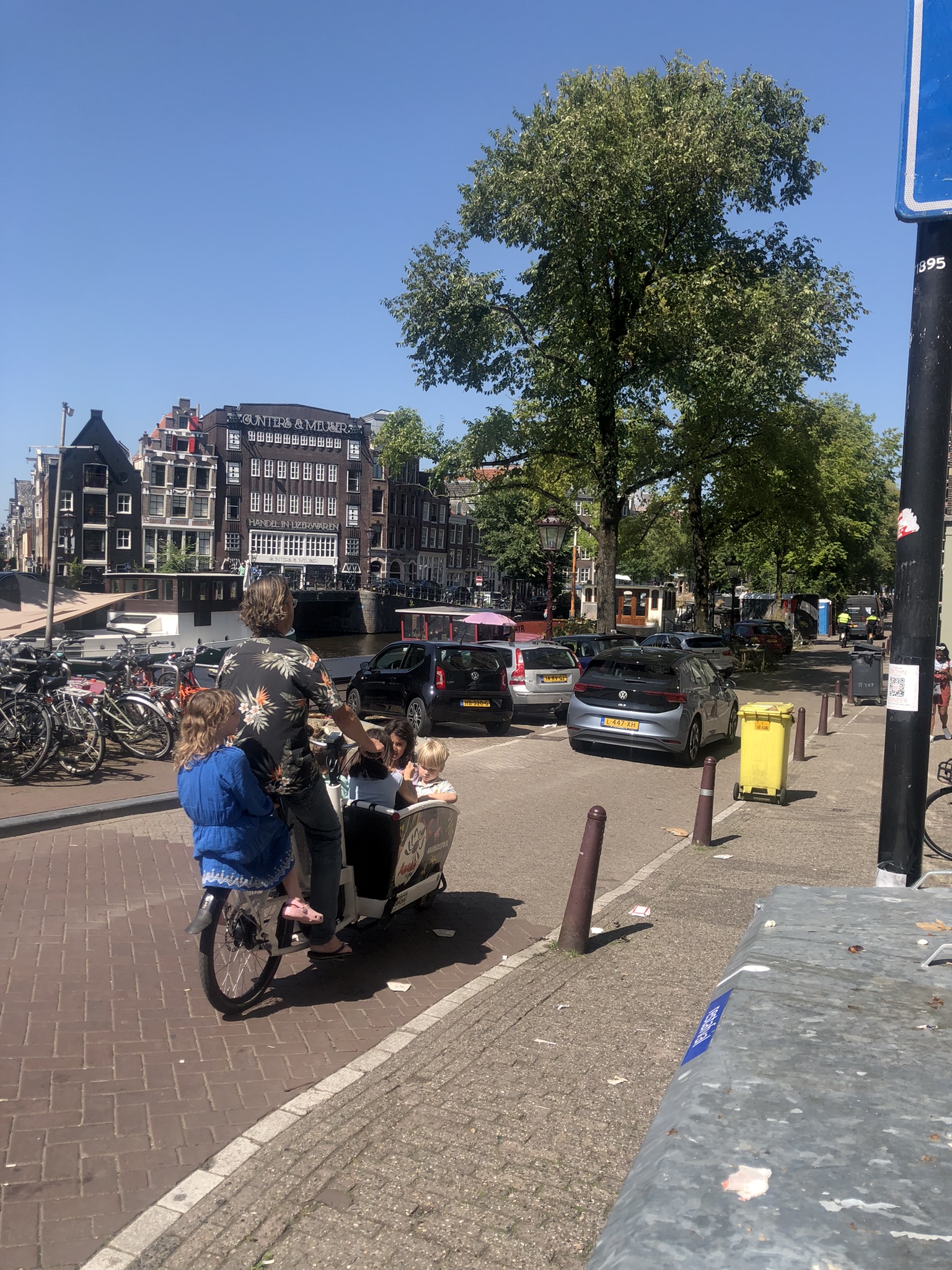 Big Infrastructure and Little Touches
Amsterdam has a vast network of safe cycle paths separated from pedestrians and vehicle traffic as well as huge cycle parks at key venues such as stations. Less obvious touches included the narrow rails we spotted going down to below-ground entrances for apartments - to make wheeling a bike up and down easier than bumping over steps.
Walking Too
It isn't just cycling that is well-served by local facilities in Amsterdam. The high number of safe crossings for cycling across junctions benefit those who are walking too. Other facilities which make walking more wonderful include regular public water fountains where you can easily and freely fill up your own water bottle. With the climate becoming more extreme, and more heatwaves likely in future, having water stations like these are really important and also reduce the desire for single use water bottles.
Unicycle Dude
One of my favourite moments was spotting a man on a unicycle confidently ride past our hotel one evening… only to return carrying a long handled broom… as you do of course!
Anyway, people cycle in towns, cities and villages all over Holland, not just in Amsterdam. We headed up to Alkmaar a lovely town in North Holland famous for its cheese market. Look out for Part Two to find out what we learnt there.