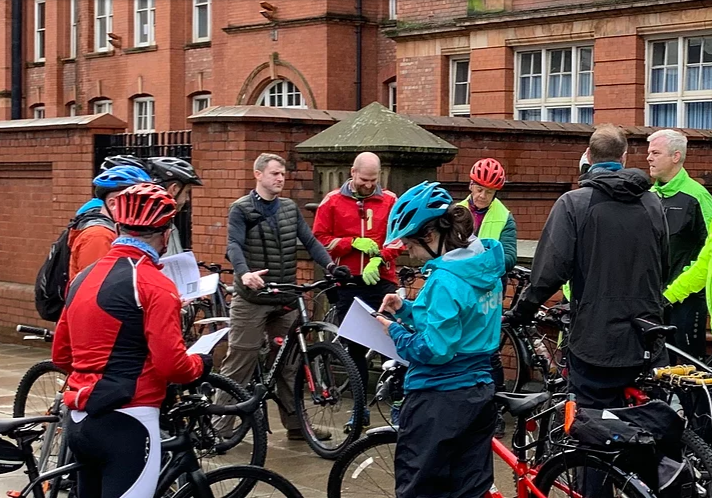 2 minute read
Promoting safe travel is one of our aims here at Brightkidz and by that we mean all sorts of safety – not just road safety – but also helping enable people to feel safe and included whilst out and about. After all the more people who feel welcomed and part of active travel initiatives, the more people will take part and the safer it will be for everyone.
As this month is LGBTQ History month we thought we would follow our friends at Modeshift's lead in featuring this and highlighting the links to active travel. (For those who are not familiar with Modeshift, they are the professional body representing UK local authority sustainable travel teams and are long-term partners of Brightkidz).
PRiDE OUT LGBTQ+ Cycling Group
It was a great pleasure to learn more about LGBTQ+ cycling issues and initiatives from Richard Hearne who runs PRiDE OUT and gave presentations at recent Modeshift events.
PRiDE OUT is a friendly and inclusive cycling group for lesbian, gay, bisexual, transgender, intersex, queer (LGBTIQ)+ people and allies across the UK. Everyone is welcome regardless of age, gender identity, sexuality, ethnicity, bike or ability.
The group started in 2019 in Manchester with regular social cycle rides organised and quickly spread in the north west beyond Manchester. They are now affiliated with Cycling UK and have responded to requests to increase their spread over other parts of the UK by starting regional facebook groups to enable potential riders to connect.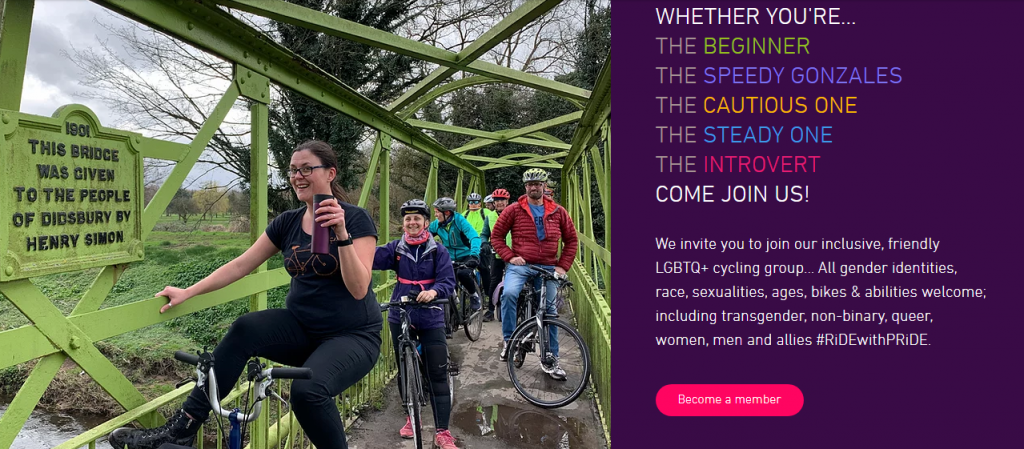 Impacts on Physical and Mental Health
Richard's presentation was a real eye opener for me.
Most thought-provoking was the Out in the Fields research from Monash University which showed a vast difference difference between gay and straight secondary school boys' participation in team sports. In 2013, 68% of straight boys took part in team sports whereas only 33% of gay boys did. This clearly has impacts for both mental and physical health and wellbeing and well as social opportunities.
LGBTQ+ Role Model in Cycle Sport
Here at Brightkidz we are about promoting cycling for everyday journeys and tend to focus less on cycling as a sport. However, I really want to include a mention of Justin Laevens who is the first male gay pro-cyclist to come out. His success and openness means he is a role model for other LGBTQ+ cyclists to feel included and accepted.
Tips for Supporting LGBTQ+ Participation
Finally some tips from Richard about how anyone can make a meaningful difference:
Stamp out prejudice and bias – never turn a blind eye.
Invest in educating people on tolerance and how to be allies.
Provide platforms and visibility of LGBTQ+ people – 'if you can't see it, you can't be it'.
Ensure use of inclusive language.
So strictly speaking this wasn't about LGBTQ+ 'history' – but we can see cyclists like Justin and campaigners like Richard are making history and creating change for the better.
Images credit: PRiDE OUT