Students Design Park and Stride Sign
A Park and Stride scheme is a way of dealing with school run traffic issues as it helps keep parents' cars away from school gates. If you want to make your scheme prominent and popular, why not get pupils on board by holding a design competition and creating your own unique sign.
We worked with one of our local schools to make this happen. Find out more.
Secondary school pupils in Kettering have designed a colourful 'Park and Stride' sign and installed it a short walk from their school gates – all part of their determined initiative to make their journeys to school safer.

Pupils from Kettering Buccleuch Academy took part in a design competition to create an engaging sign for a parking area a 5-minute walk from the school. The competition was run by local social enterprise Brightwayz, supported by North Northamptonshire Council and funded by the Office of Northamptonshire Police, Fire and Crime Commissioner (OPFCC).

The winning duo from Kettering Buccleuch Academy are Andzela Petrovska and JP whose sign has been installed on the council-owned car park area at the end of Weekley Glebe Road. Both received a high street gift voucher as a reward for their efforts.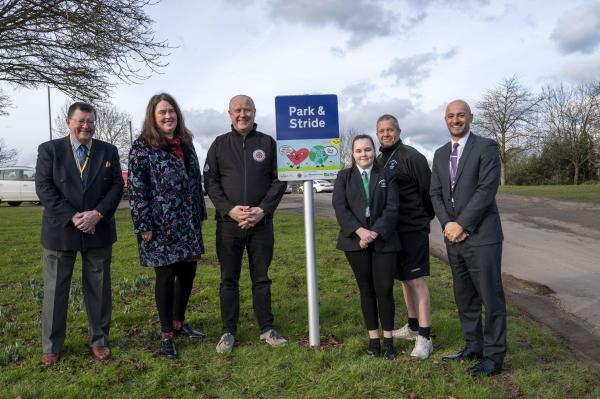 JP said: "I chose the heart design because walking to school keeps us active and it is important for our health."

Andzela said: "I chose the globe design because it is important to reduce air pollution and help save our planet."
Alison Holland, founder of active travel social enterprise Brightwayz, added: "Our focus is to inspire safe, active, sustainable travel for everyone and these students have really inspired us. This new sign means that parents who have to drive their children to the school can now park a little way from the school in the Park and Stride car park. Their children can then safely and easily walk to school which means the area around the school is less congested, making it safer for all."
Achieving Modeshift Stars
This Park and Stride competition is part of the secondary school's active travel ST:EPS project, which is funded by the OPFCC and supported by Brightwayz. Kettering Buccleuch Academy were awarded bronze accreditation earlier this year and are now striving for silver.

As part of this project students organised travel surveys and each year group received a specially prepared lesson based on various active travel and road safety issues. All pupils also received a reflector or pencil as a memento of the sessions.

Kettering Buccleuch Academy is committed to promoting active travel and in 2021 achieved the national Modeshift STARS (Sustainable Travel Accredited and Recognised) bronze award.
Support from the Top
In addition, many classes at the school have taken part in the Commonplace survey Brightwayz are using to give feedback to North Northamptonshire Council on what is needed to make walking and cycling easier and safer in Kettering.

Dino Di Salvo, Principal at Kettering Buccleuch Academy said: "The new park and stride sign is a great way to promote active travel as well as making the site safer for students. Congratulations to JP and Andzela for their winning designs which are now proudly displayed on the sign for all to enjoy."

Paul Clarke, Chair of governors at Kettering Buccleuch Academy said: "I am very proud of the work done by staff and students at Kettering Buccleuch Academy to promote active travel."
Police on Board
This ST:EPS programme has been funded by the Office of Northamptonshire Police, Fire and Crime.

Stephen Mold, the Police, Fire and Crime Commissioner for Northamptonshire, said: "This is a fantastic proactive scheme and I'm delighted to work with Kettering Buccleuch Academy and Brightwayz on this. Ensuring the safety of our children is of paramount importance to me and my objectives as the Commissioner, and the active travel projects from Brightwayz go a long way towards helping this. Hopefully these signs can not only help people choose a more active and sustainable way of getting to school, but it can also reduce the amount of traffic near the school and the likelihood of any serious incidents."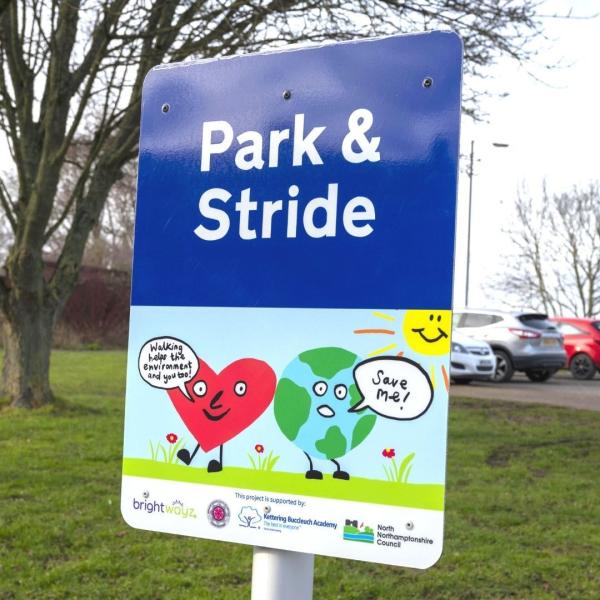 North Northamptonshire Council provided help installing the sign. Cllr Harriet Pentland, Executive Member for Climate and the Green Environment said: "We are pleased to support this project as transport is a big contributor to CO2 emissions and as a council we are keen to see our area become cleaner and greener. I hope that by keeping the area near to the school gates free of cars, more pupils will walk or cycle to school, helping to look after the planet at the same time."
Here at Brightwayz social enterprise we love to provide information and tips to help you, your colleagues, friends and family travel in safe, active, sustainable ways for everyday journeys.

Our unique range of products is here to help support your active travel campaigns and 100% of profits from sales is ploughed back to support the work we do. Take a look at our range here and find something to help you inspire others to travel in good ways.