Tips for Installing Good Cycle Parking
A magic ingredient for encouraging more cycling is having secure, convenient cycle parking facilities. Whether you are installing these yourself or paying a specialist company to do so, you really need to know what to look for with cycle parking facilities to ensure they are safe, effective, well-used and thus good value for your money.
Fortunately, there is some really good information now available to help you achieve this - within the government's new guidance (known as LTN1/20 and lovingly treasured by many active travel advocates) as well as from others such as the Cam Cycle Group from Cambridgeshire. For now we wanted to pick out some top tips for good cycle storage installation to get you started.
There are five key design criteria listed in the Local Transport Note 1/20, Cycle Infrastructure Design
(LTN 1/20):
Safe - Cycle parking should be safe for the cycle and make the user feel safe when approaching, using
and leaving the site.
Direct - the parking should be close to the cycle route and/or adjacent to the destination.
Coherent - it should be well connected to routes and buildings, well-signposted and easy to find.
Attractive - it needs to be a good quality design and well-maintained.
Comfortable - it's important it is easy to use and accessible for a variety of bikes and users.
Let's take a look at some of these points in more detail.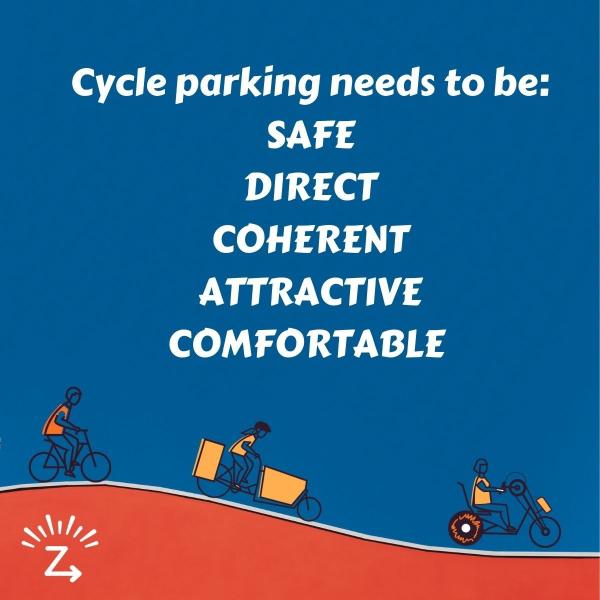 Safe
The parking should be co-located with other activities and overlooked by occupied buildings where possible.
It should not be hidden by embankments, walls or vegetation (which means planners and councils/ sites will need to take this into consideration when planning the landscape around the parking).
The parking should also have adequate security features in line with the local risk of cycle crime. For example, there should be a minimum of good, consistent lighting across the whole parking site as well as on the entrance lanes or paths. This could be accompanied by CCTV where there is perceived need, which should be properly lit, maintained and operated by trained staff. The use of white paint can improve the visibility of the site and reduce the need for extra lighting.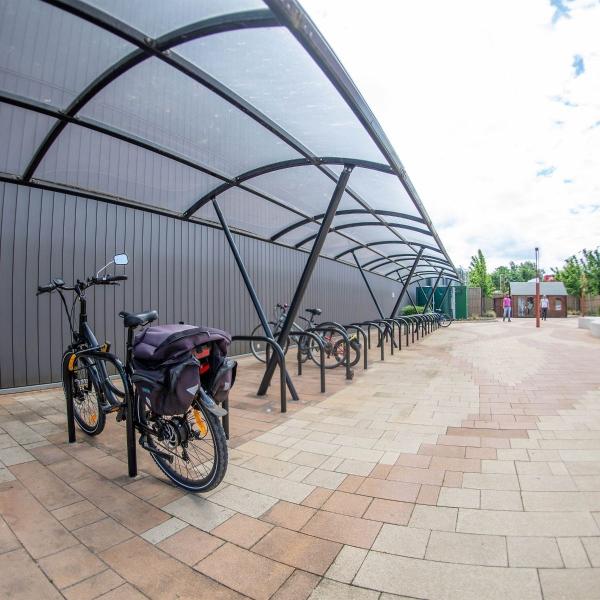 The parking itself should allow a cycle to be secured in 3 points with max 2 locks (front wheel, frame and rear wheel).
It should also allow a standard cycle to be supported without the need for a kickstand or other additional feature.
Stands should be secured with bolt that cannot be undone by standard means (allen keys/ standard bolts) and have a minimum of 2 bolts per leg on a standard stand.
Ideally the legs of the stand should be concreted into the ground or use additional anchor points to prevent easy cutting or removal of sections.
Ideally, there should be provision where required for non-standard bicycles such as cargo bikes, tandems, tricycles, adapted cycles, electric bikes and those with child trailers or carriers. This may require different sized stands, accessibility considerations (see detail on comfort/ accessibility).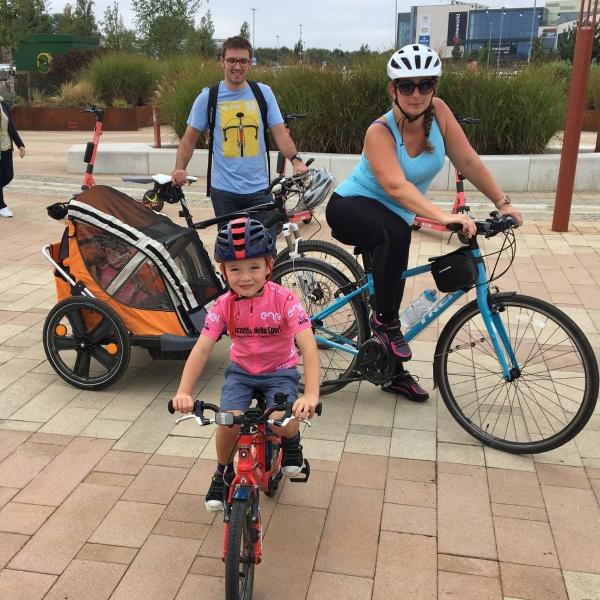 Direct/ Coherent
Unless circumstances prevent, the parking should be:
Within 15 metres of the entrance/ destination if single destination and short stay.
Within 25 metres of the entrance/ destination for short stay at multiple sites.
Within 50 metres of the entrance/ destination for longer stay.
The consideration should always be to make it convenient to access the entrance/ exit. An example might be at a railway station, where the bike will be left for a longer duration.
The cycle parking should be within 50m of the entrance and signposted to allow users to easily locate it on entry/ exit.
Care should be taken to alert those who are more vulnerable (blind, physically disabled or with other impairment) to the presence of cycle parking if it is on or close to a walking or through-route.
This can be in the form of tap rails (low-level cross-bars for those using canes) or blister paving/ signage as appropriate.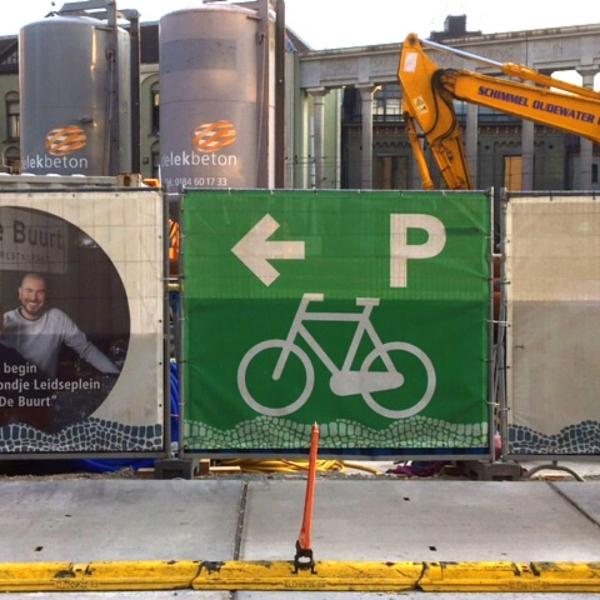 Comfortable/ Attractive
Cycle parking should be located somewhere that is visible to passers-by or people in nearby buildings.
The area should feel safe for users and secure for cycles.
Parking should be flat (or if not, the parking should be lateral to any incline to allow the cycle to lean into the stand).
There should be a maximum 5% gradient on any access paths.
The parking itself should make it easy to manoeuvre a cycle in/ out and around the facility.
The minimum distance requirements are:
0.6m clearance from the end of stands to any wall or fence.
1m distance between Sheffield stands.
3m width for a 2-way cycle access or a cycle/ pedestrian access.
2 – 2.5m width between 2-tier stands or bike lockers.
1.5m width for pedestrian access to Sheffield stands.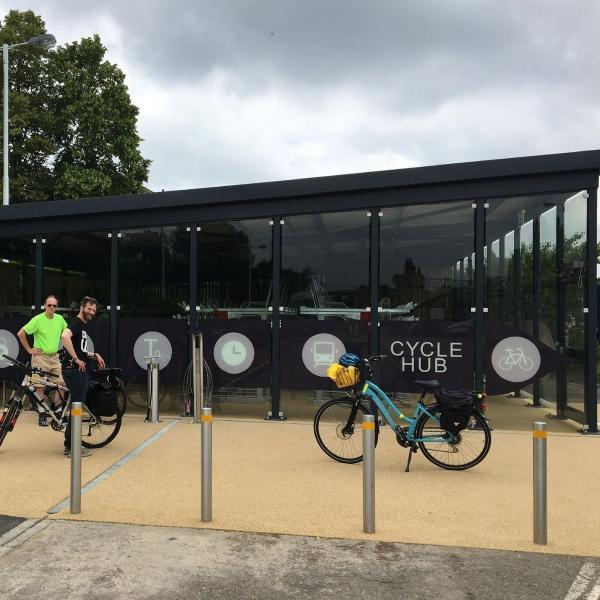 These minimums should be revised where access for adapted cycles, those with specific needs etc is
required.
Also to Consider
In addition to these logistical considerations, there are additional possibilities beyond the updated standards to make cycle parking look welcoming and in keeping with the environment it is a part of:
For example, if located on a street with many heritage buildings and features, the parking may be more suited to black-coated, "iron" look stands rather than shiny chrome (see photo, although note this design does not include a lower 'tap bar' as mentioned previously for those using canes).
The appearance is also an extra consideration when looking at engaging stakeholders and the public with new installations and designs. However, when you are considering the 'look', take care that special designs don't make them more difficult to use - eg an ornate rack with a bar which is too wide for a D-lock to fit round is not a good choice.

You will also want to consider the kind of usage your cycle parking is intended for - a single, uncovered stand outside a shop so a customer can just pop in may be fine. At the other end of the scale if you want to provide secure, weather-proof parking for staff working shifts, a cycle hub (as shown above) or indoor secure space is best (this is actually the ideal in many situations but not necessarily affordable).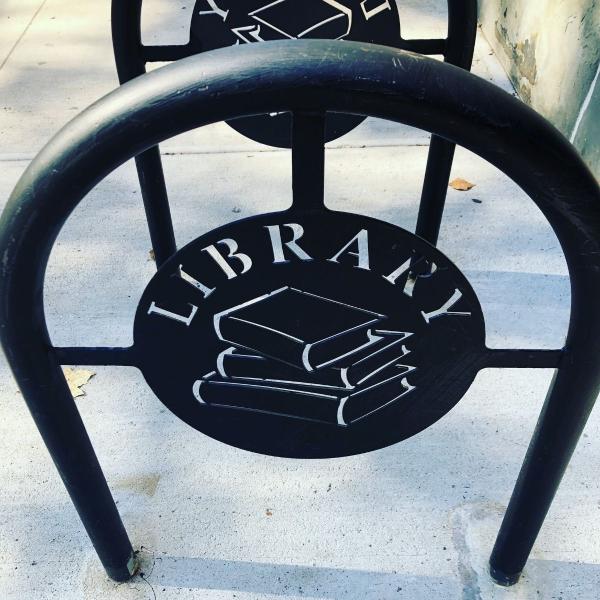 Inspiring and Use
Individual sites will need to look at the specific requirements for their size/access etc. However, it is to be hoped that these minimum requirements will inspire workplaces, leisure facilities, retail and other services to exceed them and install bright, secure and convenient cycle parking to motivate more people to make their shorter journeys by bike. It is especially good to see that the acknowledgement of adapted cycles, cargo bikes and electric bikes is being made and hopefully this will see the expansion of multi-purpose facilities that welcome all sizes and types of cycle.
Once installed it is essential to ensure the racks are well-maintained - kept clear of rubbish and repaired if needed. A regular check eg to ensure the bolts securing the racks are properly in place can help reduce the opportunities for thieves. Have in place a policy for dealing with 'orphan bikes' - those that have been deserted and are taking up valuable space. Keep an eye on general occupancy rates and if the racks are regularly filled (or attempted overfilled) consider getting more installed... or moving/changing any that are underused.
#CycleParking #InstallingCycleParking #SafeCycleParking
Further Reading
For further reading take a look at the following excellent sources:

Cycle Parking Guide from Cam Cycle.
https://www.camcycle.org.uk/files/resources/cycleparking/guide/cycleparkingguide.pdf
and
feature on parking for inclusive cycle parking:
https://www.camcycle.org.uk/blog/2021/05/the-camcycle-guide-to-inclusive-cycle-parking-design-part-1/

Department for Transport's LTN1/20 Cycle Infrastructure Guidance. See Chapter 11.
https://assets.publishing.service.gov.uk/government/uploads/system/uploads/attachment_data/file/951074/cycle-infrastructure-design-ltn-1-20.pdf

Cycling UK
https://www.cyclinguk.org/article/campaigns-guide/cycle-parking-good-practice
Here at Brightwayz social enterprise we love to provide information and tips to help you, your colleagues, friends and family travel in safe, active, sustainable ways for everyday journeys.

Our unique range of products is here to help support your active travel campaigns and 100% of profits from sales is ploughed back to support the work we do. Take a look at our range here and find something to help you inspire others to travel in good ways.