UK Social Enterprises – Brightkidz makes the Top 100… Again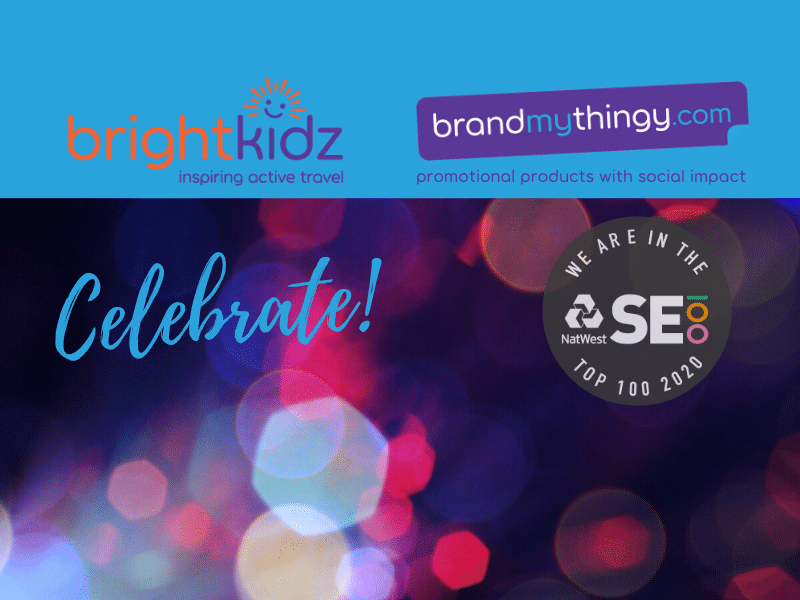 2 minute read
The NatWest SE100 index lists the top UK social enterprises… and we are celebrating because for the second year we have made it! Here's a bit about what we do, what the SE100 index means and why it matters… especially in these times of Covid-19.
Well due to lockdown we're not actually going out on the town to celebrate you understand… but today has brought a big spark of happiness to us all here at Brightkidz.
We've just heard that for the second year we have made it into the NatWest SE100 Social Enterprise index and we're feeling very pleased and proud. We're listed under our legal name – Safe Kids Walking Ltd – so here's a bit about the two sides of our business this covers – Brightkidz and BrandMyThingy.com:
Brightkidz Helping Promote Active Travel
Hundreds of schools and local authorities across the UK have been coming to us over the past 16 years for support with their active travel and road safety campaigns. We are all about promoting safe, active, sustainable everyday travel – walking, cycling, scooting etc – and do so through our range of active travel promotion products, information on walk to school schemes and local projects with schools.
BrandMyThingy.com Promotional Products with Social Impact
We love the fact the name makes so many people smile! Our BrandMyThingy.com trading arm has really taken off over the last year with our range of general printed promotional products – income from which helps fund our active travel campaigns. We've particularly seen success with customers from organisations with strong social procurement values, and who are often not-for-profit organisations themselves… using our products to support their marketing campaigns.
What is the NatWest SE100 Index?
The NatWest SE100 Index is the annual list of the UK's leading 100 social enterprises, compiled by Pioneers Post in partnership with NatWest Social & Community Capital.
How it the NatWest SE100 Index Compiled?
Applicants to the NatWest SE100 were asked to complete a comprehensive survey exploring key aspects of their business performance: from turnover, growth, profit and how effectively they manage their impact, to leadership, resilience and storytelling.
Megan Peat, CEO of NatWest Social & Community Capital, said: "Congratulations to all the social enterprises who have made it onto this year's lists. In such incredibly tough times, when we know many of you will be facing some significant challenges, it's important to recognise the incredible dedication and effort that the UK's social enterprises have shown in building business solutions to deliver a positive future for some of our most vulnerable and disadvantaged communities."
Who is in the SE100 List?
Alongside us (as Safe Kids Walking Ltd) see the full List of other SE100 Top UK Social Enterprises 2020. #SE100
Products You May Like
BrandMyThingy.com – general promotional products including Covid-19 related needs such as hand sanitiser.
Bike Bells – individual or bulk custom printed for campaigns.
Adult High Vis Waistcoat – we supply high vis for all ages which can be custom printed with your logo or message.
More from our Blogs
Fun Walking Activities for Children During Lockdown
Active Travel: Look and Feel Fresh
10 Tips for Making the Most of Your High Vis Waistcoat
Need a quote for active travel campaign resources or general marketing campaign promotional products? Get in touch with our friendly team.