Walking Bubble Resources Update and London News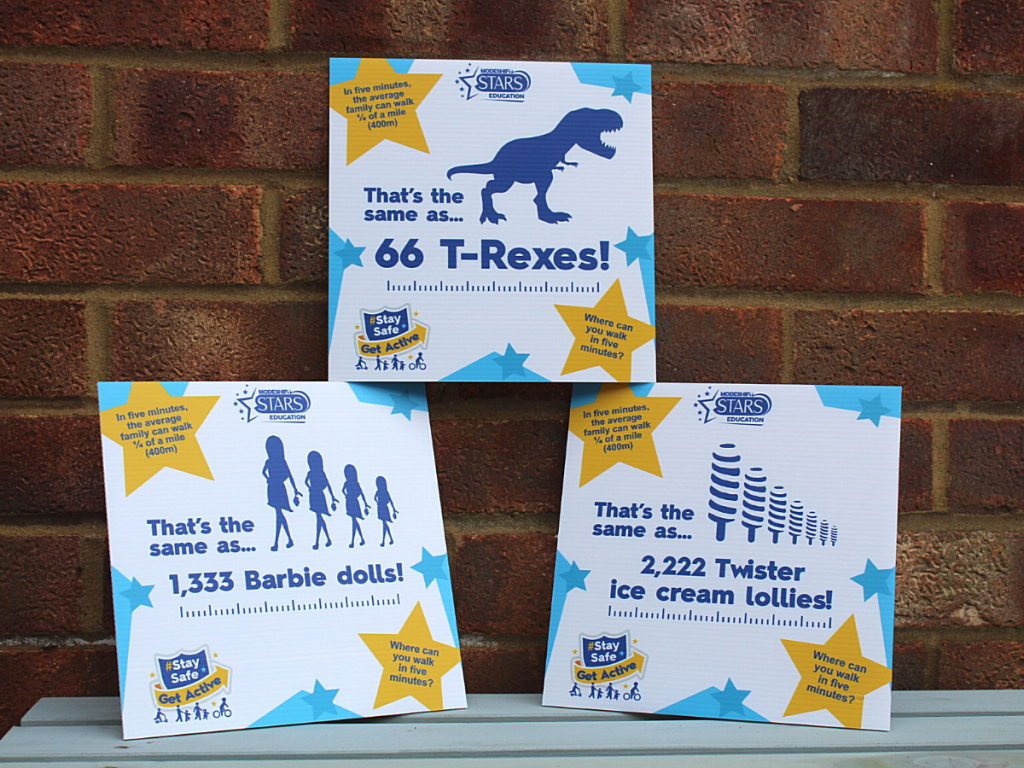 Schools may be closed to most but many of us in the sustainable travel sector are busy planning ahead for the 'big return'… whenever that may be.
How can you get more children to school in active ways, and encourage parents to keep cars away from schools? How can we make the school run safer, more active and more sustainable? The innovative Modeshift walking bubbles and engaging resources are here to help and we've an update on what's new with them for spring 2021.
Capturing the Imagination
The Modeshift Walking Bubble scheme with it's five minute walk zone maps for schools supported by the DfT, is one solution that has already captured the imagination of school communities. Here at Brightkidz we are proud to be supporting the scheme with our range of official Walking Bubble resources.
Supporting Resources
The range has been constantly growing and responding to the needs of schools and local authorities… not just the actual products but also the way we adapt to lockdown-related delivery issues and help local authorities engage schools in the scheme.
Calling London!
The good news for London is that London schools and local authorities can now make use of the resources too. Originally these were for schools taking part in Modeshift STARS (outside the capital) but due to interest expressed and discussions with Modeshift and TfL, the resources now can feature the TfL STARS logo for schools in London. Those schools can gain access to the Modeshift Walking Bubble core resources eg the digital map by paying a small fee to Modeshift.
Product Updates
For all those in the rest of the country, as well as in London, check out our update on some of the latest products in the Walking Bubble range for primary and secondary schools, here are our latest product updates.
Walking Bubble Gate signs. These engaging signs are a fun way to remind or inform parents and pupils near the school gate on the actual distance a five minute walk is – in terms of dolls, dinos or lollies.
Bunting with secondary school design Draw attention to your launch event and have it handy to bring out for other special active travel, eco or healthy lifestyle events. Our new secondary school version features a cyclist and two friends walking.
Walking Bubble Gazebo Made to order – here's one in use from last summer as a pupil waiting shelter to solve lockdown school pick-up issues. These are weatherproof, all-year-round and have optional side panels to keep snug during the colder weather.
Printed postcard maps Handy and printed with a school's own Walking Bubble zone.
Service Updates
If you represent a local authority and are working from home we can adapt our delivery service to suit you. For smaller orders we can send direct to a home address on request. For large orders if you are not on site, we can hold your order here until you are ready and able to receive it.
Local Authority Portal
We now offer local authorities the opportunity to have their own page on our website that schools in the area can use to request Walking Bubble products funded by the local authority. Then we send the items direct to the schools, reducing the need for councils to administer requests, receive goods in, store or distribute. We then invoice the local authority regularly for items sent out. Take a look at how we do this for Durham County Council. Please get in touch if you would like more info.
So we hope this inspires you to start or support a walking bubble at your local school or schools.
Brightkidz and Brightwayz are trading names of Safe Kids Walking Ltd, a social enterprise promoting safe, active, sustainable everyday travel for all. 100% of profits from sales of our products and services are ploughed back to support these aims. Find out more at www.brightkidz.co.uk