Wear it Well – 10 Tips for Making the Most of Your Hi Vis Waistcoat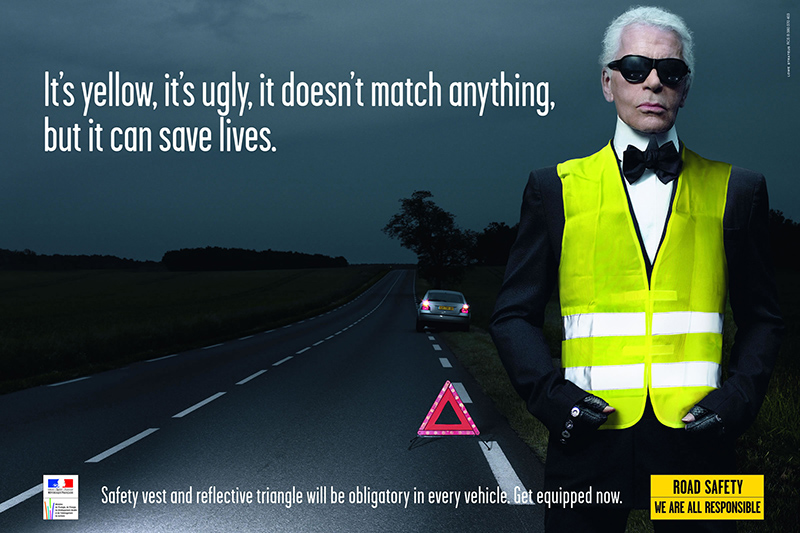 Paris, Milan and London Fashion Weeks – take your pick – it's pretty unlikely any of these will feature a hi vis jacket on the catwalk.
Although designer Karl Lagerfeld may have carried it off well when he wore one for a French road safety campaign, let's face it, 'hi vis' isn't exactly a fashion item. But it is one of the most 'popular' and widely-worn garments nowadays.
I say 'popular' because although it may not be your personal choice of style, many of us wear them… not just as a workplace safety requirement, but for cycling, event management or group identification. For children it's not just about road safety, schools use hi vis for their pupils to help with monitoring when out and about, eg on public transport for class trips.
But what's so great about them and how can we make the most of them?
What's So Great About a Hi Vis Waistcoat?
This low-cost, gender-neutral garment has become so common-place that maybe we are taking it for granted and not making the most of its clever technology: the reflective stripes strategically positioned to be visible at night in car headlights, the fluorescent fabric which shows up in daytime, 'glowing' in poor daylight and the durability of the materials.
A hi vis waistcoat is a really clever garment but if you want to get the most out of yours and be seen when you really need it, make sure you understand its qualities and limitations… and wear it well. Here's how:
10 Tips for Making the Most of Your Hi Vis Waistcoat
1. Do it up!
Your waistcoat is designed to help you to be seen from all angles but if you don't do it up there will not be enough coverage to make you visible from the front when you really need it.
2. Don't cover it with a dark bag.
If you cycle home from work with a dark rucksack covering your hi vis waistcoat, drivers behind will be less able to see you.
Supplement your waistcoat with a fluorescent, reflective rucksack or rucksack cover. (You could even make one yourself with an old hi vis waistcoat).
3. Keep it clean.
Dirt will affect the waistcoat's ability to help your visibility… for both reflective and fluorescent parts. And when it needs laundering, follow the wash care instructions.
4. Limit the laundering.
Laundering is the harshest treatment you will give your jacket as it makes the reflective tape wear out eventually.
You can wash a hi vis waistcoat up to 25 times following wash care instructions and the reflective tape will still be effective. After that, if you want to be sure you are easily seen after dark, you will need to replace the waistcoat.
5. Only print in moderation… and keep the reflective stripes print-free.
Logos, branding and messages are important to organisations. They can also help identify groups and promote a campaign cause.
However, if you have too much printing covering the fluorescent area you will reduce the impact of this bright colour. Avoid printing in dense blocks.
And printing on the reflective tape is a big no-no!
6. Choose the right size.
So you may think kids look funny or cute in a gigantic hi vis waistcoat but it's not going to do them any favours if they trip up or it gets caught when they're cycling.
On the other hand, anyone wearing a waistcoat that's too small won't be comfortable and won't be able to do it up so they won't be fully covered.
7. Wear the right type.
Those wearing hi vis as a workplace safety requirement, need to wear the right type depending on the work environment. For example a contractor working on a motorway will be fully clothed in hi vis with arms and legs covered by fluorescent material and reflective bands.
On the railways, a specific shade of orange hi vis is used so workers can be easily identified on the track at a distance.
Fluorescent yellow or orange are the traditional hi vis colours and are required for work wear but for other uses, other colours such as fluorescent pink can be used.
Some waistcoats such as (non-fluorescent) blue ones are 'reflective only' and therefore only help you to be seen at night. Although they do not have the bright fluorescent glow, they are still popular with schools for daytime use as their distinctiveness helps with group monitoring. But to be seen well in daytime fluorescent colours are best!
8. Consider your surroundings.
To be seen you need to stand out from and contrast with your surroundings. Reflective tape is so effective at night because it shows up bright white which contrasts strongly with the darkness.
A fluorescent yellow waistcoat shows up well in dull daylight when you are cycling through a grey urban landscape. But if you are cycling along an autumn lane surrounded by trees strewn with yellowing leaves it may not stand out so well… one reason why fluorescent pink is popular for horse-riding.
9. Know when it's needed.
Aside from workplace requirements, the decision when to wear your hi vis is usually up to you. Some situations are obvious – walking down an unlit road at night, especially if there is no path, could be perilous without hi vis.
Keep hi vis waistcoats handy in your car for yourself and all occupants in case of breakdown (a legal requirement in many European countries).
For cyclists, being seen sooner by drivers is desirable both day and night and so hi vis can help.
Monitoring a group of children out and about on a class trip or on a walking bus scheme is easier if they are wearing hi vis waistcoats.
However, it is not needed for every occasion you or your children step outside the door… make your own judgement.
10. Understand it's no suit of armour.
I've saved the most important point for last. Although hi vis waistcoats have amazing properties and can help you and your children to be seen day and night, there are many other factors involved in your safety. If a driver is on their phone instead of looking at the road ahead, or is just not concentrating, they still may not see you even if you are wearing hi vis.
Teach your children to always take care near traffic, whatever they are wearing.
We hope this helps you and your children or pupils to stay safe, especially if you are out after dark.
If you teach children road safety check out our '8 Bright Ideas for Road Safety Week' blog.
Photo credit: Karl Lagerfeld road safety ad created by Lowe, France for French Road Safety