Why Free Delivery and Minimum Order £25 with Brightkidz?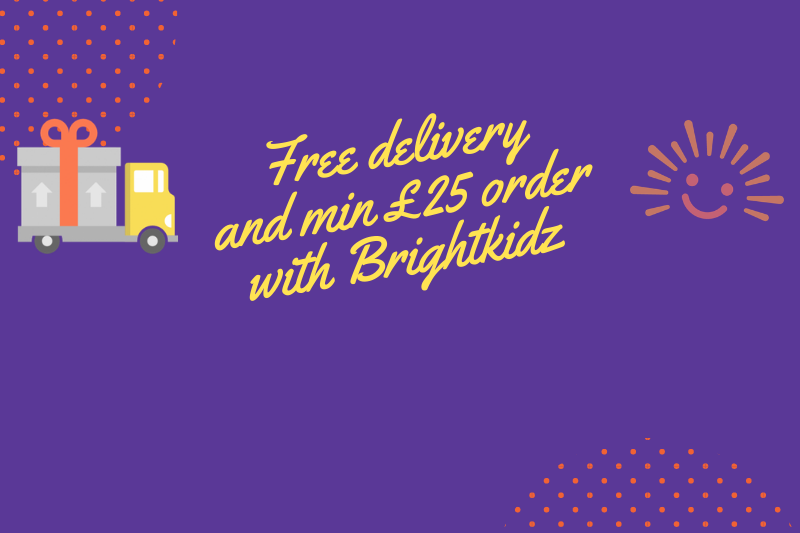 Here at Brightkidz we want to provide you with the best service and the best value. As our customers, you mean a lot to us so we are keen to adapt to your needs whilst being as efficient as possible as that helps us provide best value.
We have just made the following two changes to our policy which will enable this: Free delivery on all orders and a minimum £25 order level.
Free delivery on all UK orders
We now offer free delivery on all UK orders. We know this is popular and makes it easy for all our customers to know the full cost before ordering.
The only exceptions are if you need your order to be split and delivered to several addresses or you need a super quick delivery which may incur an additional charge. Let us know and we can advise.
Our delivery service has not changed – we are still using 1st class Royal Mail for small orders and a carrier service for larger orders.
Minimum Order £25
We have introduced a minimum order spend of £25 including vat on all orders.
Most of our customers spend over £25 anyway. The smaller value orders we got however were taking a lot of our time packing up which meant we had less time to spend on other things – like developing better resources and our projects with schools.
Also when we accepted small orders we had to charge for postage and packing even for just one small item, which meant our customers were not getting the best value… to be honest we weren't comfortable with that.
For more information see our FAQ and full Terms and Conditions.
Other Options for Smaller Purchases
We know that individuals or families may still want to buy a few small items. However, with the success of our Reflector Shop Starter Packs, many schools are offering this service enabling pupils to hold their own reflector sales. This means our smaller items are available to many children without each family having to pay a delivery charge. It also means schools have a way of teaching pupils are being safe and seen, combined with real life experience of their own social enterprise within school.
If your child's school does not have reflector sales or you are looking for other items, why not consider doing a joint order with friends to reach the £25 minimum order. We have so many more products now – not just high vis for children but also for adults and we offer many active travel related products such as bike bells. We're sure you'll find some things you love!
NOTE: FREE POSTAGE APPLIES TO ALL BRIGHTKIDZ ORDERS. OTHER TERMS APPLY FOR OUR BRAND MY THINGY RANGE OF GENERAL PROMOTIONAL PRODUCTS.
Thank you to all our customers past, present and future. We hope you are happy with this new way of doing things.
Products You May Like
School Reflector Shop Starter Pack