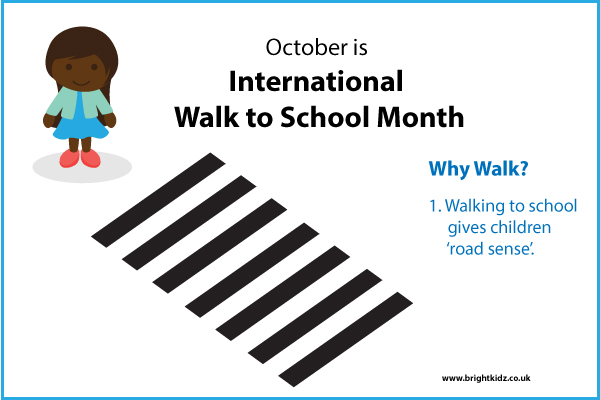 Welcome to October…
Did you know every October is International Walk to School (iWalk) Month?
Here in the UK it's an ideal time of year to be organising walk to school events and launching initiatives; pupils and teachers have settled in with their new classes, outdoors autumn colours are enticing and the colder weather hasn't yet reached us.
So why is walking to school important? We've got LOADS of reasons… here are ten to start you off and help others realise why it's worth getting on board with your plans:
10 Reasons to Walk to School:
1. Get Road-Sense
Children who regularly walk to school learn about road safety and how to cope near traffic when out and about in their own neighbourhood. Good road sense is a really important skill for life… and could one day save their life.
2. Less Congestion
Reducing congestion outside the school makes it safer for all children. Fewer cars mean the roads are safer and more parents are likely to let their children walk, which makes it even safer.
3. Super Smart
Having some exercise before they start the school day makes children more alert, able to concentrate and ready to learn as proved in a study of Danish pupils… so walking will help your child to do well in the classroom.
4. Cough, Cough, Splutter, Splutter
According to air quality experts at King's College London, we are more exposed to pollution when sitting in a car than when walking! By reducing the number of car journeys, everyone will benefit from the reduction in emissions, particularly those prone to asthma.
5. Friends
Walking to school chatting to a friend is such a good start to the day. Regularly walking means children see others from their neighbourhood and can build up good friendship bonds, especially once they are old enough to walk without adults. Sometimes older children are happy to 'buddy' walk with younger children which promotes friendships across different age groups; great for the younger child's confidence.
6. Under Pressure
Mornings can be tough, especially on school days. It's often a stressful time of day and driving can make it more so. Avoid the hassle of traffic jams and no parking spaces by walking instead.
7. State of Independence
Walking to school regularly makes children less dependent on car travel… and less lazy! As they get older they will be more confident learning to cycle if they are used to traffic. Think ahead to your child becoming a teenager… do you want to be 'taxi' for every trip they take or do you want them to be healthier and more independent, able to cycle or walk to friends, school or work?
8. Healthy Kids
We hear a lot about the obesity crisis and may feel the lack of activity in our lifestyles. But it can be hard to change our own habits when we have a comfy sofa and cosy car. However, over a year the miles walked to and from school really add up; so it's a good way to introduce more regular activity into your and your child's routine.
9. Everybody Needs Good Neighbours
Your school will have a much better relationship within the community if it is doing something about traffic issues and, for example, parents aren't regularly blocking driveways near the school.
10. We are the Champions
Schools which promote walking to school and sustainable travel really well can be credited for their success. Awards such as Modeshift STARS and Eco schools give schools, pupils and parents great public recognition for their achievements. This in turn can inspire other schools and increases pride in your school.
Want to Get Started?
There are many different walk to school initiatives you can try this month. What you choose to do is up to you. For ideas check out our walk to school info as well as the excellent information resources from charities Living Streets and Sustrans.
And Keep Going!
Of course walking to school isn't just for October. Use this month to get started with your schemes so parents and pupils get into the walking habit… which will hopefully last them a lifetime.
Share Your Ideas With #brightkidzlove
Let us know what you're doing, wherever you are in the world! Show on twitter (@brightkidz) and instagram (@brightkidzuk) so we can share your ideas too and inspire others. To tag us use #brightkidzlove.
Happy walking!
Some of this content was based on a post first published here in May 2017.